By Lydia Tan
With the 2020 Tokyo Olympics over, let's look at some unique sports during the games. This year, we saw some new sports, like karate being introduced just for this year's Olympics. Some sports also made long-awaited comebacks, like baseball/softball and madison cycling.
While watching the matches and supporting your favourite athletes, you may have come across some unconventional sports. Here are some Olympics sports that stood out for their novelty.
Skateboarding
Skateboarding was one of the new urban sports making its debut at the 2020 Tokyo Olympics, along with surfing and sport climbing. With its vibrant and fun nature, it has seen many young athletes in their early teens and 20s making history as the first athletes to represent their countries in this brand-new event.
The sport has two disciplines: Street (a course with rails, ramps, and steps) and Park (a bowl-shaped course with curves varying in steepness), and athletes are free to show off their various tricks as they manoeuvre the course. Judging will be based on factors such as difficulty, height, speed, originality, execution, and composition of moves.
BMX (Freestyle and Racing)
Cycling sports are not new to the Olympics scene but BMX was one of the more exciting events in the line-up. The freestyle event was also a new addition to the Olympics programme for 2020. It is an extreme sport that involves doing various acrobatic tricks on various obstacles.
BMX racing debuted in the 2008 Beijing Olympics and has been a part of the programme ever since. This thrilling, high-speed sport requires quick reflexes and good balance, and riders race to the finish line while navigating humps and corners in the course. Since it is considered a contact sport, you might see riders jostling with one another to gain the lead.
Race walking
No, this isn't your average brisk walk in the park. Race walking is part of the Athletics programme as one of the Road events. The rules are rather specific: one foot must always be touching the ground. In addition, the front leg must remain straight from the time the foot comes into contact with the ground until it reaches the vertical upright position. As such, athletes adopt a posture of twisting the pelvis forward to extend the legs and stepping quickly to achieve maximum forward propulsion and speed.
According to the current rules, infractions are judged only by the naked human eye. In other words, as long as there is a visibly noticeable loss of contact, it does not count as an infraction. This means that there are some slight loopholes that athletes can take advantage of in order to avoid getting warned or disqualified.
Canoe/kayak slalom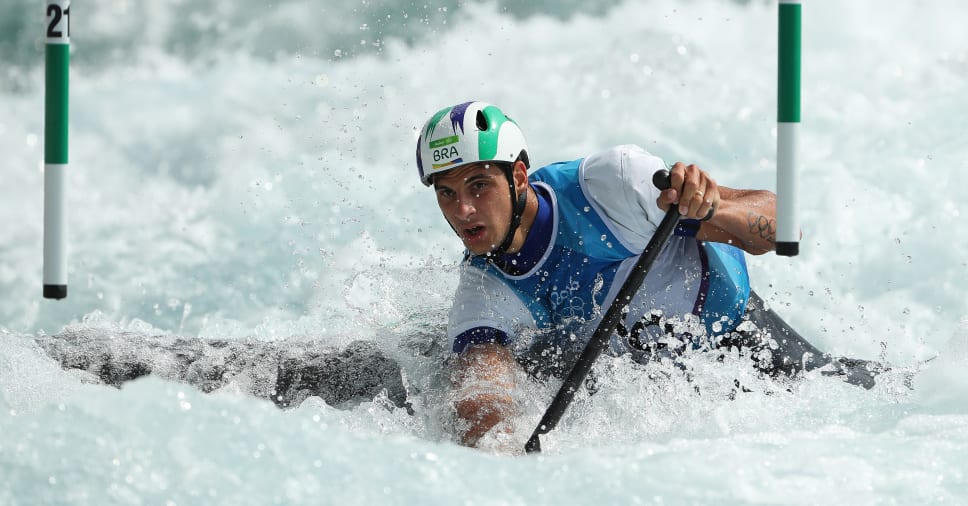 Think of canoe/kayak slalom as white-water rafting combined with an obstacle race. Athletes must navigate their boat on an artificial white-water course in the shortest time. Throughout the course, there are 18-25 pairs of suspended gate poles that athletes have to pass through. Downstream gates are coloured green and upstream gates are red. Time penalties are added if the gates are touched or missed.
It is a dynamic sport that tests athletes' reflexes, strategy and technique. Rapid current courses require arm power and upper body strength, while other courses with slower currents require more manoeuvring skills. Some athletes might even arch their back to duck under the gates or go through the gate backwards.
Breaking
More commonly known as breakdancing, this form of street dance will be the first dance-related Olympics sport and will debut at the 2024 Paris Olympics. Along with the other new urban sports introduced in the 2020 lineup, the inclusion of breaking is in line with Paris 2024's focus on youth. These sports aim to showcase "youth-focused events" that are more inclusive, engaging, and dynamic.
This sport was first competed on the junior level at the 2018 Buenos Aires Youth Olympics Games, under the name Dancesport. After seeing how popular it was, the Paris 2024 organising committee proposed for it to make its full Olympic debut. In breaking competitions, two breakers go head to head and take turns to perform. Judges score based on six criteria: creativity, personality, technique, variety, performativity, and musicality.
---
Watching the Olympics can be a really eye-opening introduction to the variety of sports out there, some of which you may never have seen or heard of before. With new sports constantly being considered for inclusion and the shuffling of sports for each Olympics' programme, we can only imagine what the future of the Olympics will be like as the scope continues to expand and diversify.