Right after the saga of COP, another drama has cropped up recently and has Singaporeans speculating things – and it's not even local news (but one aspect does involve a Singaporean).
You may have seen or heard news about Wang Leehom, and all the ugly stuff that went down over the past week. Leehom was the ideal Asian celebrity, born and raised in the USA – he was highly educated, multicultural, and eloquent in both English and Chinese. Over the years, he's had a squeaky clean image… until now.
UPDATE: Barely a month went by after we last heard from them, and Jinglei reports that Leehom tried to visit their kids with three men in tow. This is despite the fact she'd requested that he came alone. His agency responded that one of the men was their aide for 12 years (she responded that they'd only been married for 8), and claimed that she was suicidal, to which she responded, "It is not suicide if anything happens to me."
Just in case you haven't been following the news (which has every Taiwanese absolutely obsessed), here is a quick recap into this fast-paced, confusing drama of he said, she said.
It all started with a divorce announcement
As a background, Wang Leehom (45) was married for 8 years to Lee Jinglei, who is 10 years his junior. Everyone thought things were going well with this family of 5 (with 3 children aged 3-7) but rumours about marriage troubles surfaced in April 2019 when Leehom stopped posting pictures of his wife on his social media accounts.
Leehom then issued a statement of divorce on Wednesday (Dec 15) which shocked his fans. The Mandopop star posted on social media: "I've had too many shortcomings during my marriage these past few years, and I feel very regretful."
He added that he and Jinglei had "different ideas and plans for the future, so we have decided to live separate lives".
Then she dropped the bombshell
In the middle of the night of Dec 17, his soon-to-be ex-wife released a damning statement. Jinglei took to several social media platforms to write a lengthy, 9-page, 4,500-word post (English version here) accusing Leehom of infidelity, emotional abuse, hiring prostitutes, and abandoning his family.
She wrote that she was "either preparing to get pregnant, pregnant or nursing after giving birth" during her entire marriage, and that Leehom was living a "single" life while she was raising the three children by herself.
She also revealed that Leehom started courting her when she was only 16, and during their courtship he had other girlfriends. After they had embarked on a sexual relationship, she said she later found out she was one of several "friends with benefits" in "many cities."
An ex-girlfriend and Leehom's father tried to hit back
The situation got really bad – millions of netizens commented. Brands from Japan and China dropped him like a hot potato. His songs are getting cut out of CCTV shows. Even Jay Chou – a good friend of Leehom – unfollowed him on Instagram (lol).
He also cancelled all events in China for the rest of the year and flew back to Taiwan.
One of the women involved in the infidelity allegations – Yumi (real name Peh Wei Ling), the Singaporean member of girl duo, BY2 – maintains that she's just an ex-girlfriend and wasn't a homewrecker Jinglei claims. She even posted screenshots and filed a police report (which was posted on social media) for slander.
But Jianglei hit back, taking no prisoners. She commented on the post, saying: "Please give me the police's contact details, I will provide the evidence, thank you."
Then Leehom's dad handwrote a letter accusing Jinglei for being a gold digger, alleging that years ago, Jinglei forced Leehom to marry her because she was pregnant with his baby. But Jinglei said Leehom – who apparently really wanted kids – had actually asked her for an abortion instead.
She also posted screenshots of emails from their therapist (they use pseudonyms – Bobby is Leehom).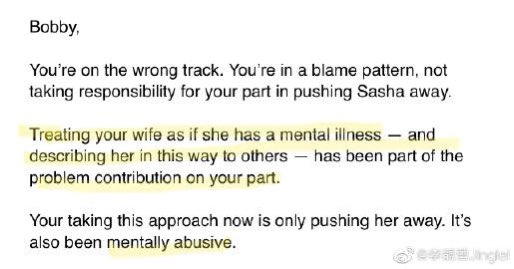 Leehom releases his own shocking statement
Leehom then responded with a 1,500 word statement on how he's going to prove every single statement wrong. Part of his statement was that he was living in "fear, blackmail, and threats" for 5 years of their marriage, and that he met her when she was 26, not 16.
Jinglei then listed out the dates they went on when she was between the ages of 17 and 26. One included a trip to the gynecology clinic (of which there are tabloid photos of them outside the clinic).
Leehom then alleges that Jinglei told him once she got pregnant that if he didn't marry her, she'd change her name and he would never see the child again. They registered their marriage in New York afterwards and he calls it one of the most frightening days of his life.
Leehom also said that they went to 5 therapists. Jinglei shot back and said he has a sex addiction and narcissistic personality disorder, and that she looks forward to hearing his rebuttal to allegations of cheating.
He also claims that Jinglei is not the person she claims to be; one who does not want a single penny from him. He posted a screenshot of their divorce agreement showing how much money she got – US$12 million (excluding the properties).
Jinglei threatens lawsuit, Leehom apologises
Jinglei then tells the Wang family that she'll sue them for libel if they don't issue an apology by Sunday.
While netizens waited anxiously, Leehom issued an official statement (English translation here) on his Weibo account at noon Monday apologising for his transgressions during the marriage. He said he would "quit work temporarily," transfer the house to Jinglei, and "participate in the whole process of rearing children."
Why Leehom's story unites netizens in Taiwan and China
Taiwan and China may not see eye to eye on a lot of things, but China embraced Leehom's celebrity. He's part of a batch of really popular Taiwanese pop artists idolised by both sides, and has firmly embraced the Chinese market. He's also been praised on the mainland as a "high-quality idol."
However, thanks to this drama, state-owned Chinese media encouraged fans not to "blindly idolise celebrities."
Heartbroken Chinese netizens have flooded Jay Chou's social media accounts to tell him he's their last hope and also "to drink bubble tea and live a good life with his wife."