Mention "Singapore Chicken Curry" and you'll probably be reminded of the image of a dish with a pale chicken doused in a "curry" resembling grey sludge that some viewers said "looked like longkang water" – a far cry from what we think of as a curry dish. In fact, it looked like a zombie version of a chicken curry dish.
Memes of the "Singaporean Chicken Curry" from the New York Times flooded socials after it posted an Instagram video tutorial on how to make the dish, based on a recipe from Shila Das who is a Singaporean of Indian and Vietnamese descent. Instead of looking like chicken curry, the dish didn't turn out quite as we imagined.
Singaporeans are very finnicky about food, especially when it comes to local food. For starters, many have pointed out that the dish is actually just Chicken Curry – there's not really a "Singaporean Chicken Curry" just as there isn't really a "Singapore Fried Noodles" or "Singapore Fried Rice" here in Singapore. Sure, you'll find them around, but it's apparently not an official name – at least not like Hainanese Chicken Rice or Ipoh Hor Fun.
In fact, according to Shila Das herself, the recipe given to the New York Times was actually a recipe for chicken briyani! NYT has since deleted their original IG post, replacing it with a post of a more recognisable dish with this caption: "After hearing your feedback, we've removed the video, and we have clarified the recipe."
Outdoing the original
CNA's Ainslee Asokan has tried to recreate the dish – which, for a curry dish, oddly doesn't have curry leaves, masala or curry powder in the recipe – and resulted in a more pleasant-looking colour: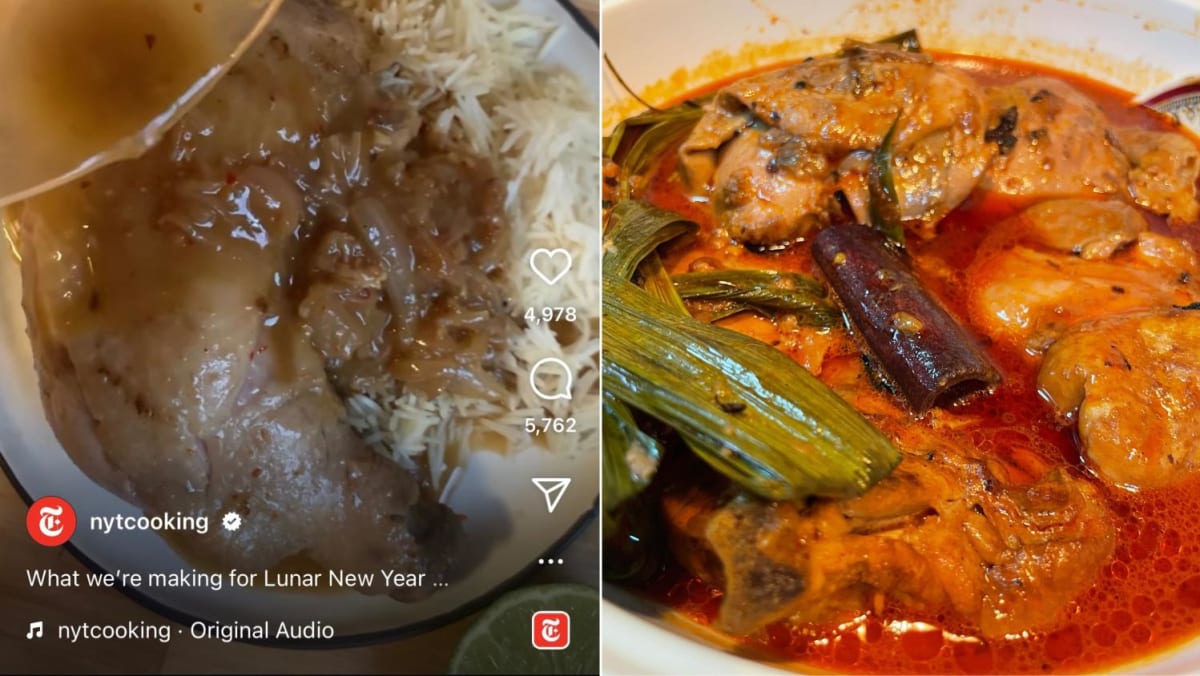 However, it was given a 7 out of 10 rating by Ainslee's grandmother, "but as a soup dish … not a curry."
Even Michelin Guide (Singapore) got in on the action with their recommendation of six eateries specialising in chicken curry that have met their approval, like Na Na Curry and Ah Heng Curry Chicken Bee Hoon Mee.
The responses
Nevertheless, the version of curry in the video looked so unpalatable – perhaps she didn't have all the ingredients – that even some government bodies like SCDF and HDB have jumped in on the "let's criticise the dish" bandwagon:
Unsurprisingly, Singaporeans have left some messages for NYT on their recently-deleted Instagram post, ranging from "Delete this right now" to Nathan Hartono's "Yum GUTter CHIMKEN."
Even "Kim Huat" aka Mr Brown has a thing or two to say about it:
Perhaps the only prominent voice missing from this debacle is none other than Uncle Roger (of "you call this fried rice?" fame). Where is he when we need a voice of… complaint?
This just goes to show that while Singaporeans may be divided on certain issues, food always brings us together.