If you're a lover of local architecture, chances are you've seen some cylindrical buildings – while some are office towers or hospitals (like Camden Medical Centre), some are actually living spaces. Most of these towers were built in the 80s, and these days, they aren't a common architectural style.
Related: Brutalist architecture in Singapore
Here are some noteworthy, and still standing, circular living spaces in Singapore:
The Clover @ Kebun Baru, Ang Mo Kio
This circular Block 259 in Ang Mo Kio Avenue 2 is made up of four 25-storey circular columns, and is the first and only circular HDB flat in Singapore. The block consists of 96 5-room flats (4 units per floor), with bedrooms facing either north or south and the living rooms and kitchens facing east or west to ensure that the flat stays cool throughout the day. They were a bit more expensive at $110,000 due to higher building costs and the larger size compared to other five room flats.
Completed in 1981, it was meant to be the signature building to marks the start of Ang Mo Kio town but complaints from potential home owners – that it would be hard to fit furniture and fittings into circular spaces – scrapped the idea for more circular towers. (Check out a drone footage of it)
The closest cousin to a circular HDB dwelling has to be Block 161 along Upper Paya Lebar Road – the building is actually semi-circular.
Orchard Bel Air, Orchard Boulevard
Clad in dark-brown ceramic tiles, Orchard Bel Air is located in District 10, standing at 28 storeys tall with 71 units, including a duplex penthouse at 6,000sqft. Completed in 1984, the apartments within the building average about 3,000sqft in size.
The building was designed by home-grown architectural firm Architects 61 and is one of the few representatives of the vernacular architecture popular in the mid-1970s and 1980s. Others were demolished following en bloc frenzy which saw the demise of the former The Parisian (now TwentyOne Angullia Park), Futura (now New Futura) and Westwood Apartments (now 3 Orchard By-the-Park). With en bloc fever raging again, Orchard Bel-Air may be the next to go.
Hawaii Tower, Meyer Road
Rising like cylindrical sentinels just off the east coast, Hawaii Tower was completed in 1984. The 21 storey-tall building comprises 135 4-bedroom units, all with same built up sizes of 2,239 sqft. The two towers each comprise 3 circular cylindrical blocks that house the apartments.
Due to a feverish property development craze along Meyer Road, Hawaii Tower is yet another project on the enbloc path.
The Draycott, Draycott Park
Completed in 1980, this condo has three 34-storey circular blocks, creating a multi-storey "Bungalow-in-the-Air" maisonette concept. To meet the demands of buyers who wished for a curved form at a low cost, the scale of the tubular towers was increased, reducing the cost by 25%. The development houses 3 types of unit sizes, although the circular towers are home to the 4 bedroom units (2,637 sqft).
Like many developments in the area, The Draycott has also been put up for collective sale.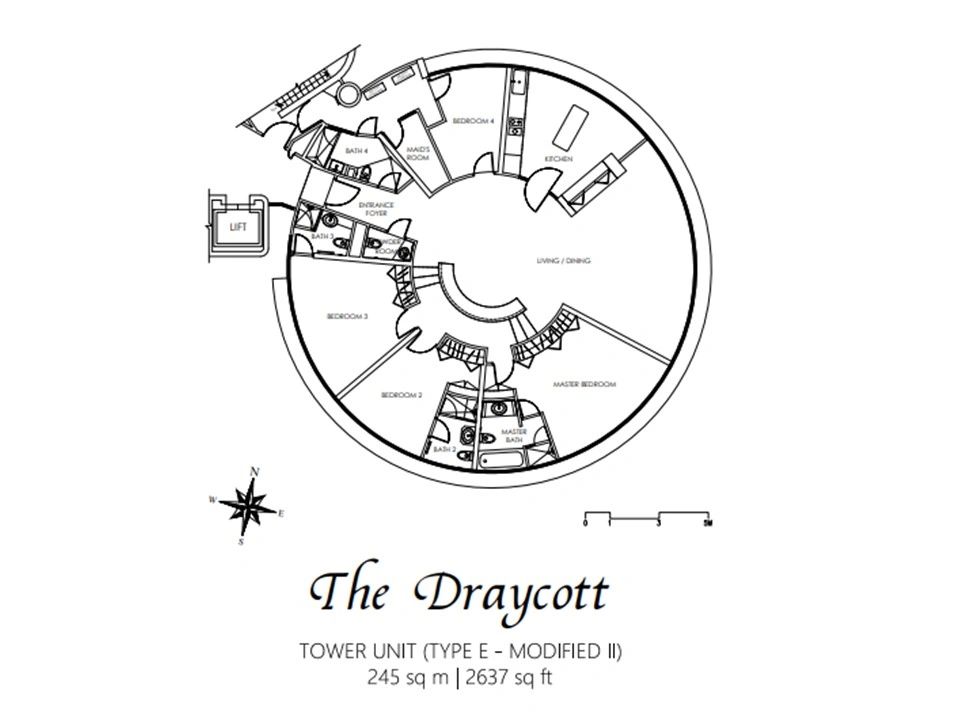 Pearl Bank Apartment, Chinatown (demolished)
Sitting atop Pearl's Hill, the horseshoe-shaped cylindrical building was the tallest residential building in Singapore at 38 stories, when it was built in 1976. It was also the first large-scale public-private and mixed-use buildings entirely designed by Singaporean architects, boasting a community area on the 28th floor called the "Sky Park".
In the 1980s and 1990s, the building was rife with criminal activities including a spate of burglaries and police raids (it was found to house immigration offenders).
Sadly, the iconic Pearl Bank Apartment was demolished in March 2020; it will be replaced by a more modern version of its skeleton, named One Pearl Bank.