Everyone knows it's a crime to steal – and it's not just obvious things like cash or valuables. Intellectual property theft – of things like literary, dramatic, artistic, and musical works – is also a crime, which is protected by copyright law. Owners of copyrighted work can take legal action if their work is being used by others without their permission.
There have been a few recent examples of copyright infringement issues involving Singapore recently, ranging from text in a cookbook to an event idea, and to a cryptocurrency using a copyrighted name.
"Army Coin" tried to appeal to BTS fans
On 5 December, the Monetary Authority of Singapore (MAS) has suspended the license for a crypto exchange site called Bitget, which was founded in Singapore in 2018. This was because it got into a high-profile dispute for promoting a digital currency called Army Coin when it was listed on their platform on 27 October 2021.
In the promotion for $ARMY, Bitget said (in a tweet that was removed) it was created to "take care of BTS members for life, so they do not have to worry about surviving…"
If you think it's got something to do with BTS' fanbase (ARMY), you're wrong.
On 28 October, Hybe Corporation, BTS' management company, released an official statement, saying that the coin had "no affiliation" with BTS. Bitget was also threatened with legal action by Hybe for using an unauthorised image of the band and distributing what it said was false information that the coin is "made for BTS" and "exists to maximise BTS profits."
Bitget may be liable for trademark infringement, since BTS' fandom name, ARMY, has been trademarked by Hybe (then known as Big Hit Entertainment) back in 2018. The possible penalty for that in Singapore is up to 5 years jail, and/or a fine of up to S$100,000.
Bitget is also liable for violation of portrait rights, since they used a portrait of BTS to promote Army Coin without permission from Hybe. However, portrait rights isn't recognised under Singapore law but Bitget can be sued for using the photo without consent for commercial purposes.
KAWS and the inflatable dispute
Remember when the giant, 42m-long KAWS: Holiday inflatable exhibit that was supposed to be displayed from 13-21 November on The Float @ Marina Bay – and the sale of merchandise – was served a court order to be halted the day before it opened to the public?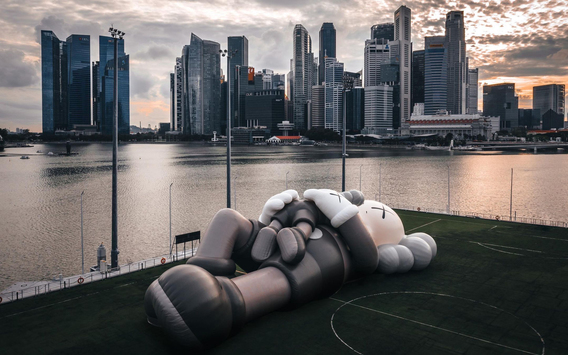 The dispute, initiated by the non-profit The Ryan Foundation, said it had been negotiating with AllRightsReserved (the HK-based organiser) in 2019 to bring the inflatables to Singapore, but the discussions fell apart. One of the disputes mentioned was the breach of intellectual property – or copyright infringement – because the foundation claimed it came up with the design ideas for the merchandise.
On 15 November, the court discharged the injunction and ordered the The Ryan Foundation to pay AllRightsReserved the legal costs. In response, Ryan Foundation started contempt of court proceedings in the High Court. Its director said: "This is a long case that will be fought for all the freelancers and creatives whose ideas, pitches and work has been stolen or used without authorisation."
On 14 December, AllRightsReserved began defamation proceedings against The Ryan Foundation and its director.
Cookbook plagiarism
A cookbook titled "Makan" was released in May this year by former MasterChef contestant Elizabeth Haigh, but it was pulled from circulation over claims she plagiarised the work of Singaporean author Sharon Wee who pointed out several similarities to her book "Growing Up In A Nonya Kitchen" which was published in Singapore in 2012.
In Elizabeth's book: "By tradition, Nonya Aunties engaged all their senses when they cooked. It was really important to gauge the smells and colour of the gravy; feel the warmth of the charcoal or wok heat; listen to the sizzle of the rempah; and – the best bit – taste constantly. The Aunties cooked by agak agak, or 'guesstimation'. This meant that passed-down recipes were totally inexact and is why I've struggled so much with this project."
Sharon writes: "Traditionally, the Nonyas engaged all their senses when they cooked – it was important to gauge the colour of the gravy, smell the aroma of the spices, feel the warmth of the charcoal heat, listen to the rhythm of the pounding and most importantly, taste the final product when the cooking is finished. As such, recipes passed down the generations were inexact. Cooking was by estimation or what the Nonyas called agak-agak."
It also seems that "Makan" has plagiarised from more than just Sharon's book – some other sources include "Terry Tan's Straits Chinese Cookbook" and Rasa Malaysia blog. Singaporean writer Daryl Lim has been collating plagiarism claims against "Makan" on his Instagram post.
What you need to know about copyright
Copyright infringement can cause more than just losing revenue from monetising your work, your reputation may be tarnished if your work has been used in an unflattering way – and laws exist to punish violators.
Copyright is automatic: Did you know that once you created the piece of work, copyright is automatically granted without the need to register or comply with other formalities to enjoy protection? Plus, your work will also automatically be protected overseas!
Copyright protects anything: Basically, copyright protects literary, dramatic, musical, and artistic works – this includes sound recordings, broadcasts, cable programmes, protected performances, and published editions of works. Interestingly, none of these works need to have literary or artistic merit – yep, it can be crap or mundane! However, copyright only protects the expression of an idea and not the idea itself, which means you have to have it written down or recorded in a way.
Copyright exceptions: There are exceptions to copyright, like if the creator contractually assigns the copyright to someone else. Generally, if you created something during the course of your employment, the copyright belongs to your employer. However, in cases of those working in media (ie. magazine) the employer can reproduce the work but the the employee retains all other rights to publish the work elsewhere.
Usually, the person commissioned to produce a work for a client will be the first owner of copyright in that work. For example, in a photo, the ownership belongs to the photographer, and not the people in the photo – this is why in the case of Bitget's Army Coin, it's hard to sue them for portrait rights.
What's the recourse for all these copyright infringements?
Bringing a lawsuit against the infringer can be time-consuming and costly – for an organisation like Ryan Foundation, it's an uphill battle against a bigger entity, but for a big corporation like Hybe, bringing a lawsuit to Bitget is a necessary corporate step.
This is why for most copyright infringement issues, negotiation or mediation is a first step – in Elizabeth Haigh's case, "Makan" was pulled from shelves by her publisher to avoid legal disputes.