Fans who were waiting for the BTS Meal to finally roll out in Singapore on 21 June at 11am – after it was delayed for a month due to the Covid situation here – were prepared to queue to get their meals. As expected, the BTS Meal sold out in record time, becoming a trend on Twitter.
Even though Singapore is allowing dine-ins, McDonald's has made it clear that the BTS Meal was only available via delivery – to avoid any crowding, of course. When the BTS Meal was rolled out in Indonesia, they had to close a dozen outlets due to the crazy surge in orders that caused massive crowding – and that's just from the delivery riders.
Here's what ARMY experienced when trying to snag their own BTS Meals:
Queuing for it
So McDonald's implemented a queue system specifically for the BTS Meal, similar to what how you'd purchase concert tickets: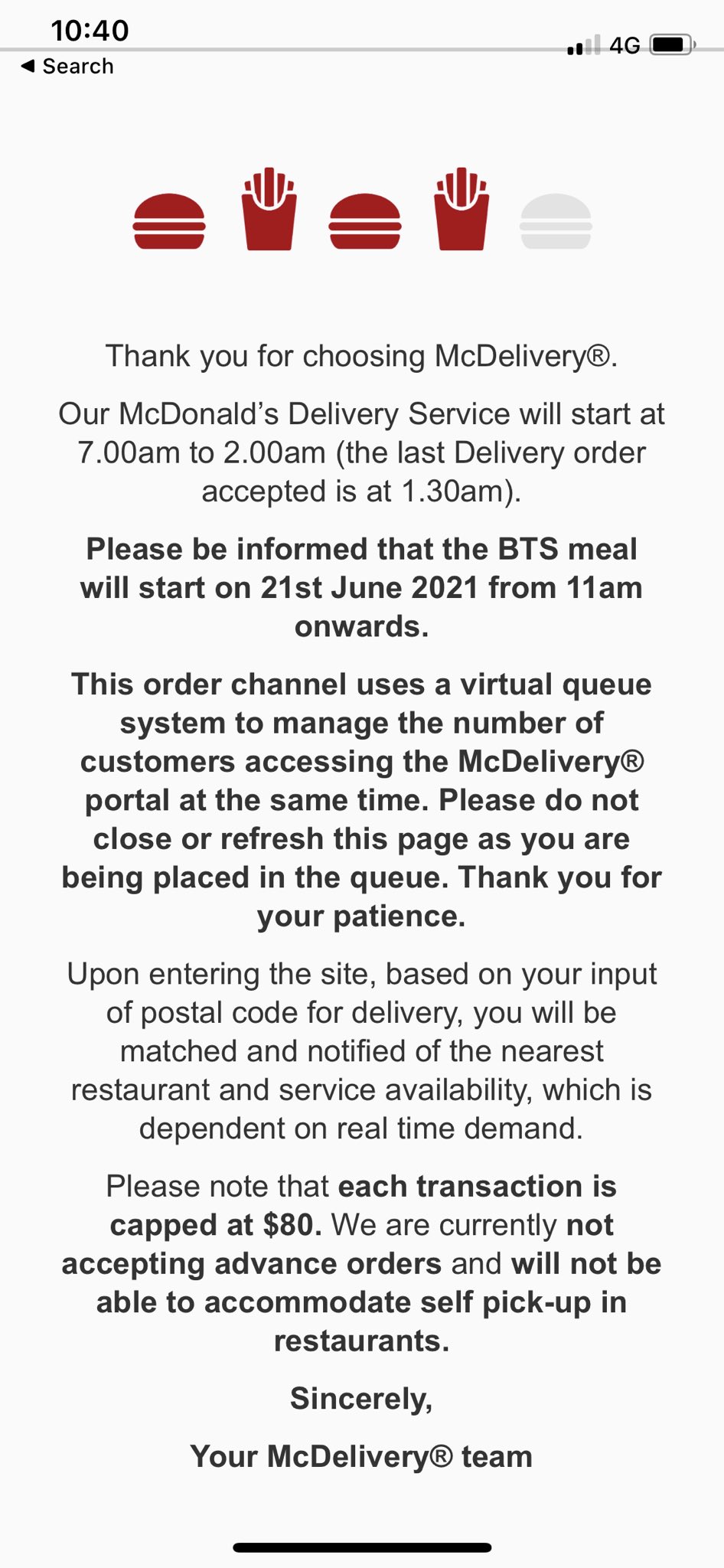 However, some McDonald's outlets sold out at lightning speed – some say in just mere minutes. However, a dedicated ARMY will know to book simultaneously on all booking apps, including foodpanda and Grab. It's not just the BTS Meal that was sold out either – some outlets also ran out of Blueberry Cream Cheese Pie.
Orders came without the branded bag
When the meal was first announced, everyone was excited about the prospect of having BTS-branded packaging, like this (with a purple cup, McNuggets box, and a brown bag with the BTS logo):
However, people in Singapore who received the meals didn't get to have the BTS-branded brown bag – but as McDonald's clarified, the bag isn't available in Singapore (was it why the meal went for $8.90 at 10% off the usual delivery price)?
No chance to get your packaging? There's Carousell
If there's demand, there's always scalpers. So it's no surprise that, due to the overwhelming popularity of the BTS Meal, some have tried to profit off the packaging by selling them! Hey, at least they're washed…
Even if you wonder what fans can do with food packaging, netizens offer up some ideas: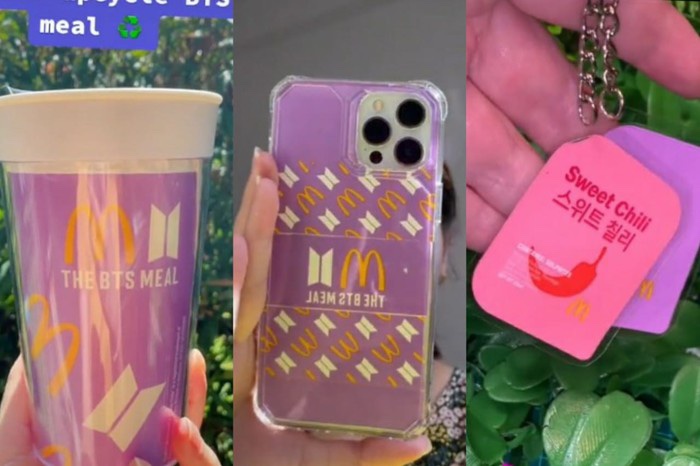 No merchandise with the BTS Meal
Those who got their meals earlier than us here in Singapore flaunted many of their BTS Meals with other BTS-McDonald's merchandise, including bags, socks, keychains, and more. Sadly, the BTS Meal isn't really like a Happy Meal which comes with toys (or goodies) – but you can still buy BTS-McDonald's merchandise on the WeVerse app.
The power of BTS
The BTS Meal comprises a box of 9-pc McNuggets, a drink, fries, and two dipping sauces – which is basically a regular meal. The only difference is the two dipping sauces: Cajun and Sweet Chili. Oh, and a different packaging.
It just goes to show the power that BTS has. Whatever they do has the Midas touch – even if it's just a simple fast food meal.
But there is a silver lining to this: the BTS Meal isn't sold out. And McDonald's distributed 2,000 of BTS Meals to Changi Airport workers to thank them for their service.