From Old Changi Hospital to Alexandra Hospital and KKH, hear the stories behind some of Singapore's oldest hospitals. Some are more known for their ghost stories than their actual history, but whether they're still standing or abandoned or relocated, these hospitals give us a glimpse of what life was like in the past. And why some of these hospitals really are fuel for ghost stories.
Old Changi Hospital
Old Changi Hospital is arguably the most notorious of Singapore's historic medical institutions, having been the setting for countless ghost stories. People have spotted apparitions in pre-war clothing to spirits in medical uniforms along the corridors, and there have also been alleged Satanic rituals held there.
The hospital comprises two buildings from the 1930s which were part of a military base camp housing the Royal Engineers of the British Army. However, the grounds was seized by Japanese troops in 1942 and used as prisoner-of-war (POW) camp for over 50,000 from February 1942.
There were stories of the prisoners being tortured in these buildings by the Kempeitai (Japanese secret police) during WWII based on an alleged room with thick chains hanging from the walls and blood-stained floors, even though there were no recorded reports of torture. It seemed to be the opposite: according to Lim, the Japanese forces let the British officers maintain order and discipline of the POWs in the camps. They even had access to education, sports, and theatrical performances later on.
The prisoners here were gradually dispersed to various camps across Singapore and other parts of Japan-occupied Southeast Asia, and the Changi camp was shut down in May 1943. It was repurposed as barracks for units constructing a nearby airstrip before being commissioned as a full-time hospital for the British Royal Air Force (RAF) Changi base in 1947. The barracks were repurposed as RAF Hospital Changi.
Over the years, the hospital went by the names of ANZUK Hospital, UK Military Hospital, Singapore Armed Forces (SAF) Hospital, and finally, Changi Hospital which operated until 1997. Medical services became available to members of the public, besides just military personnel and their families.
Alexandra Hospital
Built in 1938, Alexandra Hospital is the only hospital in Singapore boasting a simplified neo-Classical-style, and the only one still in operation in its original building. Its striking architecture is typical of military buildings built in that era. However, it's also had its fair share of horror stories. The haunting apparently range from creepy feelings to visions of apparitions of presumably former patients in the building.
These stories are probably not as scary as the history of what actually happened here during the Japanese invasion during WWII.
Then known as the British Military Hospital, it was caught between advancing Japanese troops and retreating British forces, resulting in the massacre of up to 200 staff and patients on 14 February 1942. The Japanese soldiers went from room to room shooting, bayonetting, and beating up doctors, orderlies, and patients indiscriminately. More victims were ushered into outbuildings only to be locked up and left for dead, and only a handful managed to escape.
After the war was over, the British Military Hospital was sold to the Singapore Government in 1971 for a symbolic $1, and then re-opened as Alexandra Hospital. Today its greenery, sprawling grounds, and airy layout makes it feel like a chalet that seems to hide its dark past very well.
Tanglin Military Hospital
While Dempsey Hill is a hip area for wining and dining these days, the area began as a leafy outpost for the British military who established Tanglin Barracks along Loewen Road. One of the many buildings here was a hospital for the military until the opening of Alexandra Hospital in the mid-1940s. Thanks to its isolated location and history, the place is sometimes a location for haunted tours.
Tanglin Military Hospital has had a colourful past – it was one of the locations of the Singapore Mutiny of 1915. A party of Sepoy soldiers went to Tanglin Barracks to release German prisoners, and among the locations the mutineers entered was the hospital. They drove out patients and shot at personnel.
Singapore General Hospital
Singapore General Hospital is technically the oldest hospital in Singapore. It officially opened in 1821, but through the years, the hospital underwent several name changes and relocated to several sites, from Stamford Road to Pearl's Hill and Serangoon.
In 1860, it was constructed an area at the junction of Bukit Timah and Serangoon. While it began as a general hospital for the public, it pivoted to treating women from the mid 1860s. In fact, in 1872 the women's ward became known as the "Lock Hospital" because it became the main medical facility treating – and confining – sex workers, sometimes against their will (by law). In 1924, it became The Free Maternity Hospital, better known as Kandang Kerbau Hospital. Today, the KK Women's and Children's Hospital we're familiar with is actually located across the road from the original KKH, which has been decommissioned as a hospital in 1997.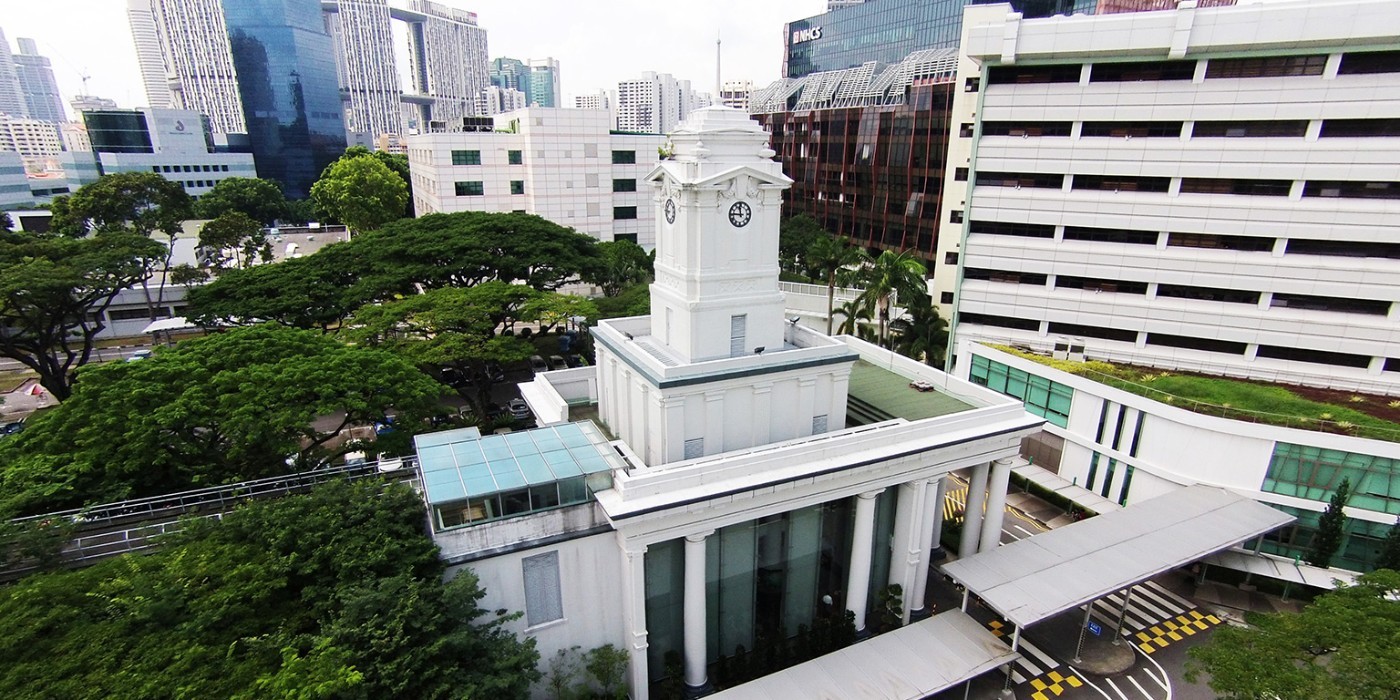 Singapore finally built its first official large-scale hospital – named Singapore General Hospital – in 1926 on Outram Road. By this time, it had been built seven times. Its three blocks were renamed Bowyer, Stanley and Norris Blocks to commemorate three doctors who had lost their lives during WWII. Bowyer Block is the only structure that remains from the 1926 hospital, with Norris and Stanley Blocks having been demolished in the 1970s to make way for the new hospital.
Another historic structure on SGH's grounds today is what remains of Singapore's third oldest lunatic asylum: the New Lunatic Asylum which was built in 1887. It used to house 250 male patients and 50 female patients, and the today the only standing structure is the perimeter wall. The hospital was known to have a holistic approach: violent patients were only restrained by their wrists with lock gloves, instead of the usual straitjacket.
Singapore has had 2 previous insane asylums – the first was the Insane Hospital (1841) located at the junction of Bras Basah Road and Bencoolen Street, which was then replaced by the Lunatic Asylum located near KKH in 1861. By 1928, patients were moved to the new Mental Hospital – predecessor to the Institute of Mental Health – in Yio Chu Kang.
These are just some of Singapore's most historic hospitals. There are many others that scattered across the island, most either repurposed as commercial buildings or abandoned. If you want to read more, check out Singapore's history of hospitals here.