Chinese tennis star Peng Shuai, a former No. 1-ranked player in women's doubles, has been back in the news lately thanks to a quick interview session that went viral.
In her interview with a reporter from Singapore's Lianhe Zhaobao, Peng Shuai said that she'd never accused anyone of sexually assaulting her, and that she wrote the letter to the Women's Tennis Association (WTA) president on her own accord and that the views – that the sexual allegations were false – were entirely her own.
When asked about her freedom to go wherever she wanted, she replied that she's always been free. "Why would there be people following me?" she replied.
"I never said or wrote that I was sexually assaulted"
In the interview, which took place at the 'FIS Cross-Country Skiing China City Tour' in Shanghai on Dec 19, the biggest revelation was her denial of the issue she posted on Weibo last month. "I never said or wrote that I was sexually assaulted," she said, adding that the post was a private matter.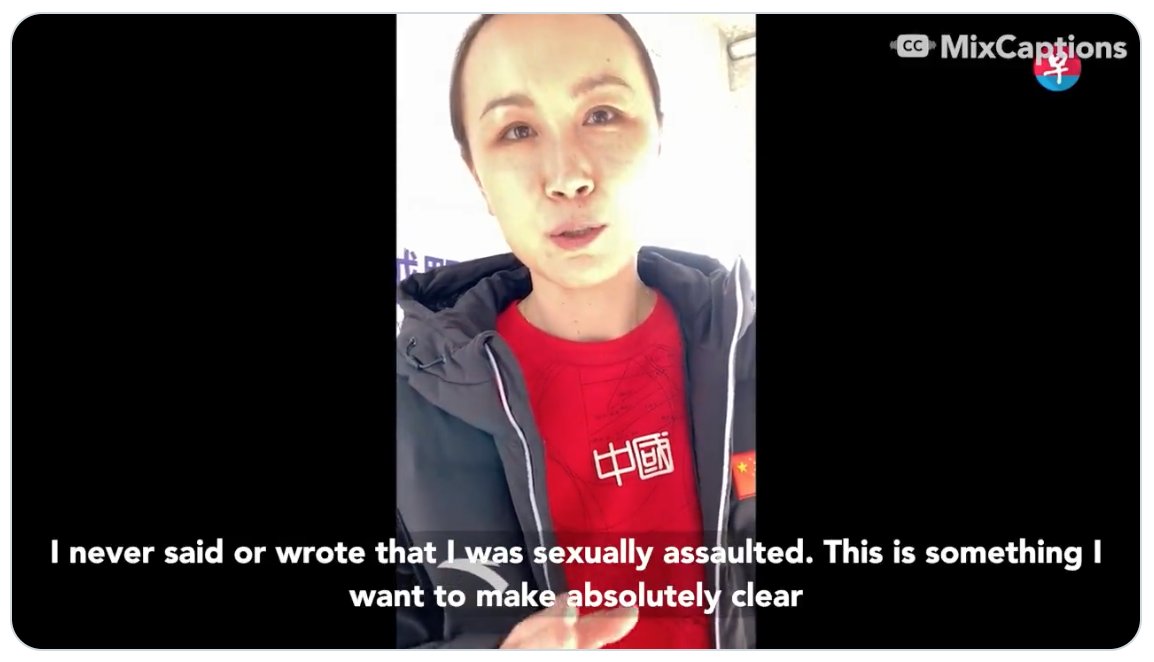 Many are wondering why she took back her words. However, according her original Weibo post on Nov 2 (which has since been deleted) she said she was coerced into having sex, but it didn't use the Chinese term for "sexual assault."
"I was very scared. I refused at first, then I gave in and we had sex," the post said. It also stated that his wife was "standing guard outside."
The Weibo post indeed sounded very personal, where Peng admitted to being "a bad girl" and that she had sex twice – 3 and 10 years ago – with former Chinese vice premier, Zhang Gaoli who was 50 years her senior. She also revealed that she was in love with him and thought it was mutual, and that she wanted a committed relationship. She also said that he told her he would contact her on Nov 2 (the day of her post), but he "disappeared."
Peng also said she "kept no evidence, no recordings, no videos" of her experience, and that she would expose their relationship even if it's "like throwing an egg against a rock."
Zhang has not appeared in public or commented on Peng's accusation. Read the full English translation here.
How she created a media storm
Peng's well-being became a matter of concern among the global tennis community and rights groups when her post came out, especially as it involved a high-level official.
Her essay was taken down less than 30 minutes after it was published (but netizens managed to get a screenshot), and after that, she was absent from social media for nearly three weeks, prompting netizens to speculate about what happened to her. Even tennis star Naomi Osaka was concerned – she tweeted the hashtag, #FreePengShuai, which went viral.
The incident unleashed a global storm of criticism of China. As a result, the WTA announced its suspension of future tournaments in China early this month.
Much ado about nothing?
Whether or not she was simply ranting in her Weibo post without giving it much thought is something we can't know. In the interview, she did say that it was a "personal matter" so at least it proves that she did write it.
On the surface, it appeared to be a MeToo situation that turned into something far more sinister involving the CCP, since allegations were made regarding one of their officials. And when Peng was absent from social media, everyone was concerned for her safety. This is probably why some viewers weren't convinced by what she said in the recent interview.
However, many netizens also claimed that people, particularly those from the west, were making a mountain out of a molehill, and that people are reading too much into her body language – that she seemed to be darting around nervously – during the interview.
Peng Shuai's scenario seems – to many observers – to have something in common with Alibaba's Jack Ma and actress Fan Bingbing.