If you're a collector of all the weird flavours that Nissin Cup Noodles has released, then their latest is definitely one to bag. The company is planning to launch Pumpkin Spice-flavored Cup Noodles this autumn.
This is their first limited edition flavour in the US, created as part of Cup Noodles' 50th anniversary (which is 18 September) this year.
What's in the new flavour?
According to the press release, this Pumpkin Spice-flavoured noodles is not going to have a traditional soup we're all used to eating. In fact, this limited edition noodle will be saucy, rather than soupy.
It's made with a special pumpkin seasoning which is a blend of sweet, savoury, and spiced (not spicy). To prepare it, you simply need to add a splash of water – you don't have to fill it up with boiled water like you do with the usual Cup Noodles – and then microwave it for four minutes.
According to Nissin, you can actually top it off with whipped cream for the full pumpkin spice experience.
This fall-inspired creation was created based on a nationwide survey – apparently American Gen Zs are crazy over pumpkin spice flavours. Some even crave the flavour year-round.
If this Pumpkin Spice flavour sounds desirable, you'll have to find someone in the USA to ship it to you. This is because it'll only be distributed exclusively at Walmart across the country, starting in late October 2021.
Other weird Cup Noodles flavours
Pumpkin Spice isn't the first weirdly-flavoured Cup Noodles you can find. Most of these are available only in Japan, and are limited edition (meaning 'sold out').
Mystery Meat: Mysterious Beef Bowl & Kimchee
Nissin has been releasing a series of cup noodles with Mystery Meat, which is freeze-dried bits of meat that's supposedly made with soy and pork. The flavours they've released so far with this Mystery Meat have been limited edition, and in 2021 they've released flavours like Mysterious Beef Bowl and Mysterious Meat Kimchee as limited editions. Most of the iterations of "Mysterious Meat" are limited to only 10,000 units.
Mystery Meat: Karaage Lemon
This earlier release of Mystery Meat in Karaage Lemon is made primarily with soy protein and is supposed to replicate the texture of karaage, so you can get the full taste of fried chicken spritzed with lemon, in noodle form.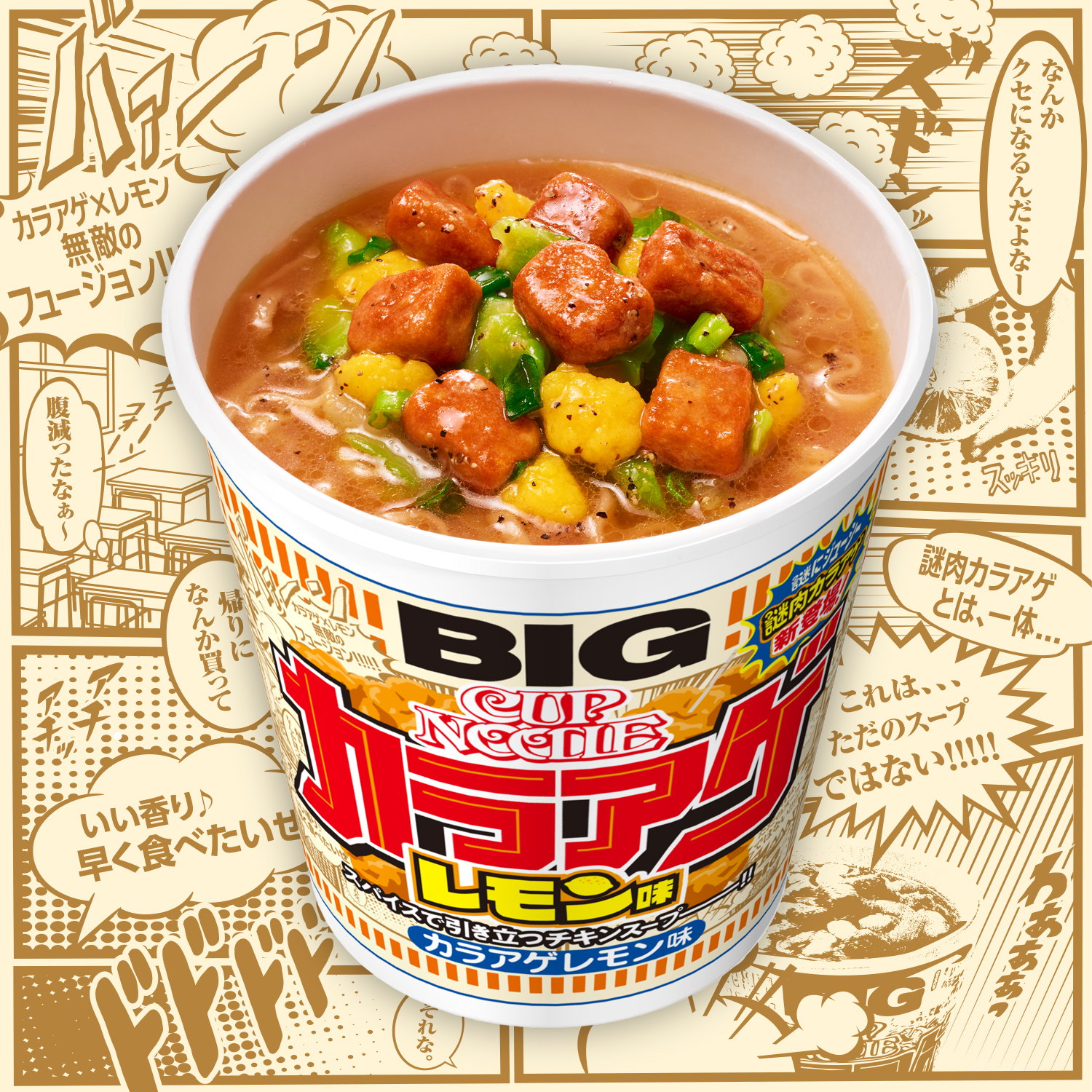 Luxury Imitation Shark's Fin & Softshell Turtle
This 'luxury' flavour comes with dried ingredients like goji berries, wood ear mushroom, egg, and lettuce. The noodles come in a thick Chinese-style broth, with an imitation shark fin made from gelatin.
Also part of the 'luxury' line is turtle-flavored soup, which includes Japanese-style bonito, a ginger-based broth and "softshell turtle powder."
Maple bacon
Maple and bacon is a weird but popular combo in the US (they even have maple bacon milkshakes), but it's not often you see this combo in noodles – this one contains bacon and maple syrup for that sweet-savoury flavour.
Nuggets and French Fries
You heard it right; this Potenage (a portmanteau combining potato and "nagetsu", or nuggets) contains fried chicken bits and potato chunks as well as scrambled egg bits and spring onions. It's part of the Big range, so it comes in a larger portion – 94g instead of 77g.
Matcha
Designed with a gorgeous packaging that evokes the image of Japan, this is actually matcha seafood flavour – and the seafood here is dried octopus. The broth has a green hue, but the matcha flavour takes a back seat to the seafood.
Lobster Bisque & Clam Chowder
A product of Hong Kong, this clam chowder has a thick and creamy 'soup' base, and comes with quite a bit of clam meat. The lobster bisque is less creamy, with chunks of lobster and shrimp.