UPDATE: Beow Tan has recently been charged one count of public nuisance and two counts under Section 298A(b) of the Penal Code. She's had her psychiatric evaluation at IMH before her case was heard on Jul 2. Tan is currently out on bail, and was warned not to commit fresh offences. She'll return to court on July 30.
By now, everyone in Singapore knows "that Hwa Chong Karen" who posts videos – recorded without consent or knowledge from the subjects – online, and adds comments like "Malay harassing Chinese" to them. Her actions in public and online are at once bizarre, condescending, and insulting, not to mention outright racist. Just by looking at the videos and her online captions netizens have either categorised her as 'crazy' or 'racist' – but these two labels aren't mutually exclusive. Which is why she's currently being investigated by the police and has been let go from her job as a property agent, while her Youtube page has been taken down.
Related: What the recent racist videos say about Singapore?
What's surprising about her case is that it took several years before someone actually noticed her online vitriol – it wasn't until a viral video depicting her ranting on an MRT asking one man what race he was – that netizens started investigating her. Now we all know her as Beow Tan (or Catherine Tan), and what netizens have unearthed is mind-blowing.
She was most recently seen ranting on the MRT:
She's an online troll
She can usually be found on social media – in the comments section. Simply find an article on Facebook by a local news site (ie. Straits Times, CNA, etc) and find a post of an article about her, and check the comments. She goes by the name 'Catherine Tan'. In her comments (usually posted under someone else's comments), she repeatedly requests for the reporters to interview her to get her side of the story.
While her posts sound like a bot posted them, she actually responds to other commenters. If you're doom-scrolling anyway, you may find some interesting exchanges – especially one involving a mysterious person called 'Bala'.
She's also pretty active on Twitter where she posts under the strangest threads in order to get attention to her case(s). One thing's for sure: tag her, and she may appear. A lot of her posts are repeats of previous posts on several different social media platforms. One may wonder if it's a bot posting as her.
She doxxes herself multiple times to prove her point
On her Twitter account, she doxxes herself in several of her posts by posting multiple letters from official agencies.
She posted a photo of a letter from Singapore Police Force regarding Disorderly Behaviour at a Starbucks outlet, but didn't block out her full name, home address or NRIC. She then posted the letter under multiple threads, including one to – of all people – President Biden (yes, POTUS himself) with the message "SOS from Singapore!" to protest her alleged wrongful arrest.
On May 1st, she posted a letter from SBS Transit responding to her complaint about a bus driver closing the door on her. Ironically, she randomly responded to someone tagging her under Hossan Leong's Twitter post. The letter in question – this time from 2014 – also revealed her name and address.
She's actually been randomly uploading a number of letters – from official bodies like SPF and SBS – on social media, usually pertaining to complaints about people harassing her. One of the things we all do well in Singapore is complain – and this racist auntie really takes hers seriously.
She's a Youtuber!
To be fair, she's not a "Youtuber" that you're imagining. That's because all her videos are basically those she's recorded herself (on her phone) without the knowledge or consent of the people she's filming. In some of the videos, the unknowing victims end up catching her in the act at the end. The videos are between 1 second to 5 minutes long; in some, she directly confronts the strangers.
All the videos are titled either "Malay harassing Chinese" or "Indian harassing Chinese," with captions that don't seem to align. The captions actually detail her upbringing as a Hwa Chong student and a graduate of a Canadian university, and that she films her victims because "they are always trying to come near me" even though there hasn't been any clear evidence in her videos.
Her Youtube channel 'Beow Tan' started with just 5 followers, but ever since the online blowup, she amassed over 500 followers before it was taken down! And her videos, which initially averaged several thousand views each, blew up to over 75,000 views in the most-watched video, "Malay Man Attempted To Molest Chinese Woman."
It later emerged that she had been doing this as early as December 2016. While her Youtube page has been taken down, she still has some videos uploaded onto her Facebook page.
She's a Shawol (a fan of K-pop boy band SHINee)
Fans of SHINee were surprised (shocked) to hear that she's a Shawol, according to multiple posts on her Twitter. She's apparently a huge supporter of the band, having bought merchandise and (recently) a VLive concert ticket.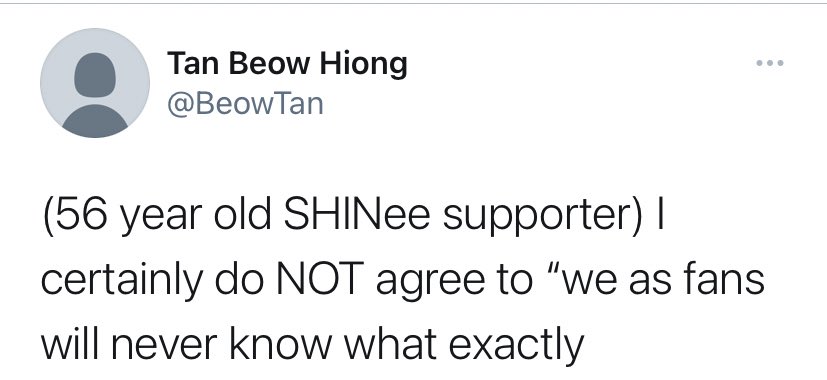 She has issues
In the viral video on Apr 21st, she was recorded saying, "May I know your race? What race are you? You Malay? No wonder… I was from Hwa Chong, I'm not that stupid… I would never mix around with you guys because you're so different."
This seems to be a violation of Section 298 or 298A of Singapore's Penal Code, the punishment of which is imprisonment of up to 3 years, a fine, or both.
But if you accuse her of racism – and many people have pointed it out – she will simply respond with:
Now that she's famous (for all the wrong reasons), let's see what happens next – whether on social media or in the news.