By Bhawna Sharma
It's that time of the year again when we look back over 2018 and make promises for the new year (although most of us know that new year's resolutions never really go down the way we'd like them to). So here's to leaving behind all the good, the bad, and the ugly of 2018 behind and starting 2019 with a bang at these new year's festivities:
At the heart of the action: Marina Bay
Date: 31st December | Time: Best to go after 5PM
Marina Bay has become the quintessential new year's heartland with its scenic landmarks and picturesque vantage points. This new year is no different, with an hour-long ticketed fireworks display, bites from the Food Truck Fest to get your foodgasm on, outdoor live acts, a bustling bazaar selling an array of souvenirs, and the Prudential Marina Bay Carnival all being freely accessible. In addition, Mediacorp has made its countdown concert free for the first time! Head down to The Promontory at Marina Bay to catch a glimpse of your beloved local musicians, including Taufik Batisah, Gentle Bones, Sufi Rashid and more.
When one day isn't enough: Tanjong Beach Club
Date: 31st December/1st January | Time: 9PM-2AM/10AM-10PM
This one's for all the beach lovers. Soak in the tropical beats of DJ Orio and the sea breeze under a midnight moonlight in this ultra-cool, sand-kissed pool party which lasts two days – yes that's right. Why just celebrate New Year's for one day when you can celebrate it for two? After a night of partying on the 31st, rise and shine on the first day of 2019 to a nice brunch and, for the brave souls not too hammered from the night before, some day-drinking.
Walking down memory lane: Sentosa Boardwalk turned retail haven
Date: 31st December | Time: Best to go after 5PM
For the romantics who just want to talk a nice stroll and walk down memory lane 2018 in their minds, Sentosa boardwalk has just the perfect mix of tranquility and vibrancy. Peppered with booths selling unique merchandise, the walkway gives a bird's eye-view of VivoCity and Sentosa. Another good place to take a stroll is Gardens By The Bay, where you can catch a glimpse of fireworks exploding against Singapore Flyer and Marina Bay Sands.
The best drinks deal in town: Singapore Pub Crawl Countdown
Meeting Point: Fat Pigeon Statue beside UOB Plaza
Date: 31st December | Time: 6PM-Late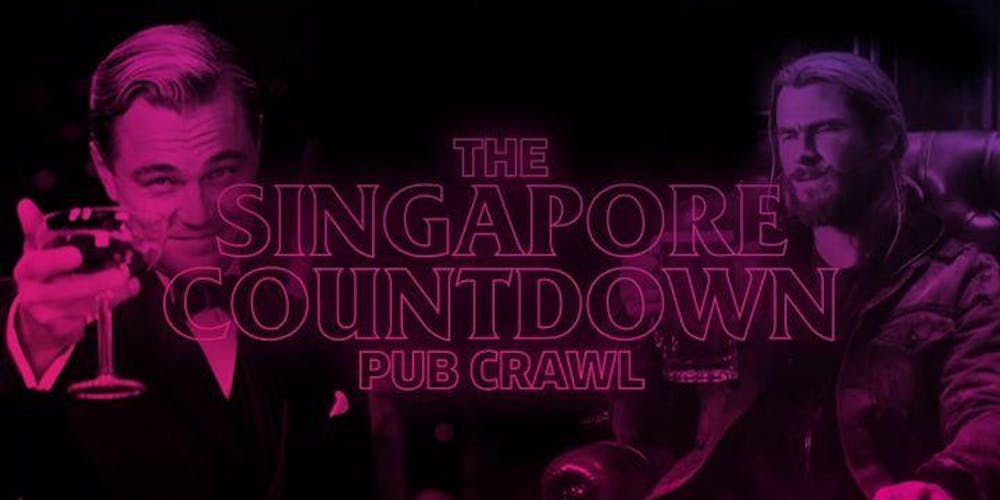 Looking for an alcohol fix this new year's? Look no further, because Singapore Pub Crawl is here. From $50++, you'll be whizzed around the hottest bars in the city with an hour of free drinks during registration, and VIP entry into one of Singapore's most sought after NYE clubs. At midnight, pub crawlers will receive a free glass of champagne along with a dazzling view of the fireworks to feast their eyes. It's also the perfect atmosphere for social animals as pub crawls typically involve large groups consisting of individuals from different walks of life. Get tickets while they last!
Just can't get enough of partying: Siloso Beach Party
Date: 31st December | Time: 6PM-6AM
Price: $68 (Standard Ticket prices)
Let's just say that I've heard some legendary stories from my friends who've been to Siloso Beach Party. Running its twelfth year, the Siloso Beach Party has become a countdown tradition attracting thousands of energetic party-goers with a star-studded lineup of Asian DJ's, music soundtracks, and how could I forget, fifty-thousand litres of pure water foam! Bring out the party animal in you at this year's Siloso Beach Party countdown and begin the new year on a high note (well, don't get too high).
As another year passes us in the blink of an eye, it's a good time to take a step back and think about what you've achieved over 2018. Embrace a new year with new opportunities while carrying with you the lessons you learnt this year.