For many, Covid has already stolen their youth. There's a common myth being passed around that Long Covid (LC) is rare. Or that it only affects medically infirm people, that it can't happen to "me". But far from someone random, here are some celebrities who you may have heard of who are dealing with the debilitating effects of Long Covid.
Athletes with Long Covid
Lionel Messi: The legendary Argentinian footballer of Paris Saint-Germain is one of a few celebrities revealed the difficulties with Long Covid. He contracted the virus in early January, and continued to struggle with respiratory issues after recovery. "I came back before I should have, and it got worse because I went too fast. And in the end, it got worse," he said.
Lewis Hamilton: The F1 celebrity says he has been "fighting all year" with his health, after contracting Covid-19 in December 2020. The 7-time world champion suffered from dizziness and blurred vision after participating in last year's Hungarian Grand Prix.
In addition to dozens of Olympic athletes, Long Covid has also affected a lot of American pro-athletes.
Celebrities with Long Covid
Kendall Jenner: On a recent episode of The Kardashians, Kendall complained about how she still felt awful 2 months after coming down with Covid-19. She did an IV treatment and talked about taking various supplements. "I don't know what's wrong with me… It's been two months and I still don't feel good, I just feel f***king weird," she said. Kendall wasn't the only person in her family to have it: Khloe publicly announced that she suffered from hair loss after contracting the virus.
Billie Eilish: The pop superstar was diagnosed with Covid-19 in August last year. She was unwell with the virus for two months. In an interview with Howard Stern, she told him she was still experiencing undisclosed side effects in December. One of those side effects was a persistent cough.
Tilda Swinton: One of Wes Anderson's favourite muses, Tilda was still having issues with her memory until early this year from a Covid-19 infection she caught last August. "I got off relatively lightly, but the worst thing is how it affected my brain," she says. The actress, who was normally quick to learn, said she kept forgetting her lines on the set of Asteroid City which was filmed late last year.
Who are at risk of Long Covid?
For starters, there is no real concrete way to predict who will get Long Covid. Research is underway to determine those at higher risk of developing it. So far, one study that followed 309 participants for 2–3 months identified 4 factors:
a higher viral load
the presence of certain autoantibodies that mistakenly attack the body's own tissues
reactivation of the Epstein-Barr virus (EBV), which is found in 95% of the human population
having type 2 diabetes
Unless you live under a rock, you've heard of the prevalence of Long Covid almost everywhere in the world – and Singapore is no exception. Local doctors say they've noticed an up to a 15% rise in Long Covid cases since February, which was the peak of our Covid-19 pandemic.
A lot of research also supports the idea that going back to "normal" life not only sets recovery back – it could also make someone more ill. Studies have shown that physical activity worsened symptoms. This has been recorded in the cases of multiple athletes.
However, recent estimates of the prevalence of Long Covid do seem to suggest it's less common with the Omicron variant than other previous variants like Delta. The latest UK survey found that the odds of LC after a BA.1 infection was about 50% less common. This was compared to the Delta variant in fully-vaccinated adults. A study preprint from a Japanese clinic also found less Long Covid with Omicron than other variants. 
Still, if you've had an infection recently and are still struggling with lingering symptoms, slow down, rest, and make it your priority to recover. Of course, rest alone is not enough (depending on the damage), but it's essential. Here's a little explanation of what Long Covid is: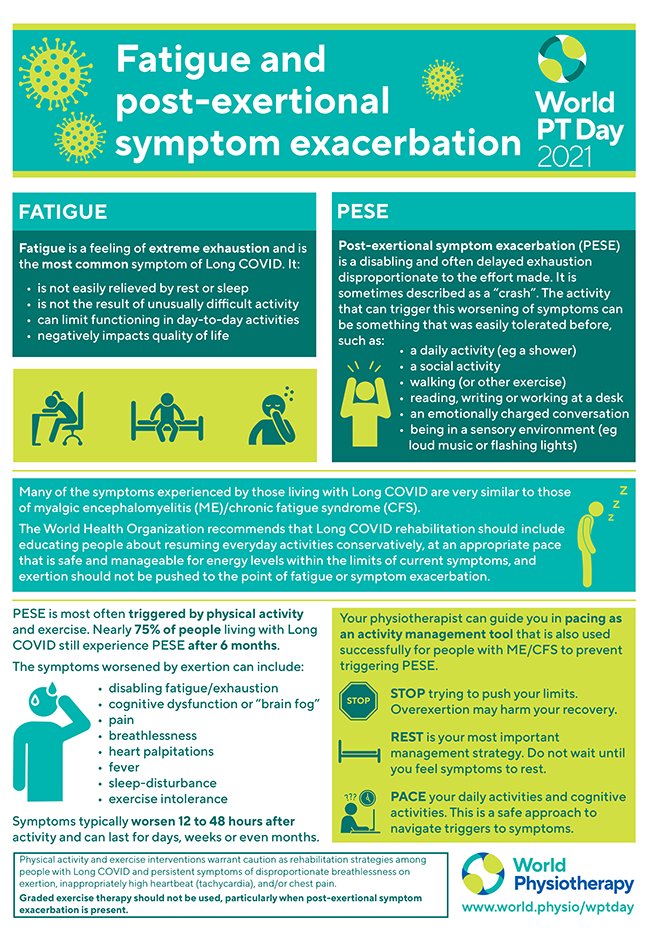 Long Covid literally sucks the energy out of every single cell of your body, so the best way to avoid it is to avoid being infected in the first place.