Nissin's Cup Noodle is turning 50 this month, and to celebrate, they recently announced the release of Cup Noodle Soda! Yes, it's basically a range of sweet, fizzy drinks that come in Cup Noodle flavours you're familiar with. Sure, we heartily slurp up noodle broth, but sipping a bottle of ramen-flavoured carbonated soda?
Related: Cup Noodle releases Pumpkin Spice flavour noodles
If you can get past the weirdness, the packaging is pretty cool. There are four different flavours, each representing the flavour of a Cup Noodle… as a carbonated drink:
Cup Noodle Soda is a ginger ale-style soda with the aroma of soy sauce and pepper
Cup Noodle Seafood Soda is a cream soda-style base with a hint of seafood
Cup Noodle Chili Tomato Soda is a tomato-based soda with a refreshing, tangy tingle
Cup Noodle Curry Soda is a cola-style soda with a kick of curry spices
Nissin is known to have fun with their new zany concoctions, like the upcoming Pumpkin Spice Cup Noodle, and with this new release, they simply said: "Whether it's delicious or not is up to you!"
Cup Noodle x Umaibo
Earlier this month, Nissin released another limited edition batch of goodies: Cup Noodle-flavoured Umaibo snacks. The crunchy, tubular snacks are similar to corn puffs, and come in a huge variety of flavours and the new Cup Noodle set has eight Cup Noodle flavours, each based on the instant ramen's regular flavours.
These are: Original (soy), Seafood, Curry, Chili Tomato, Miso, Cheese Curry, and Tonkotsu (pork bone broth) and Salt.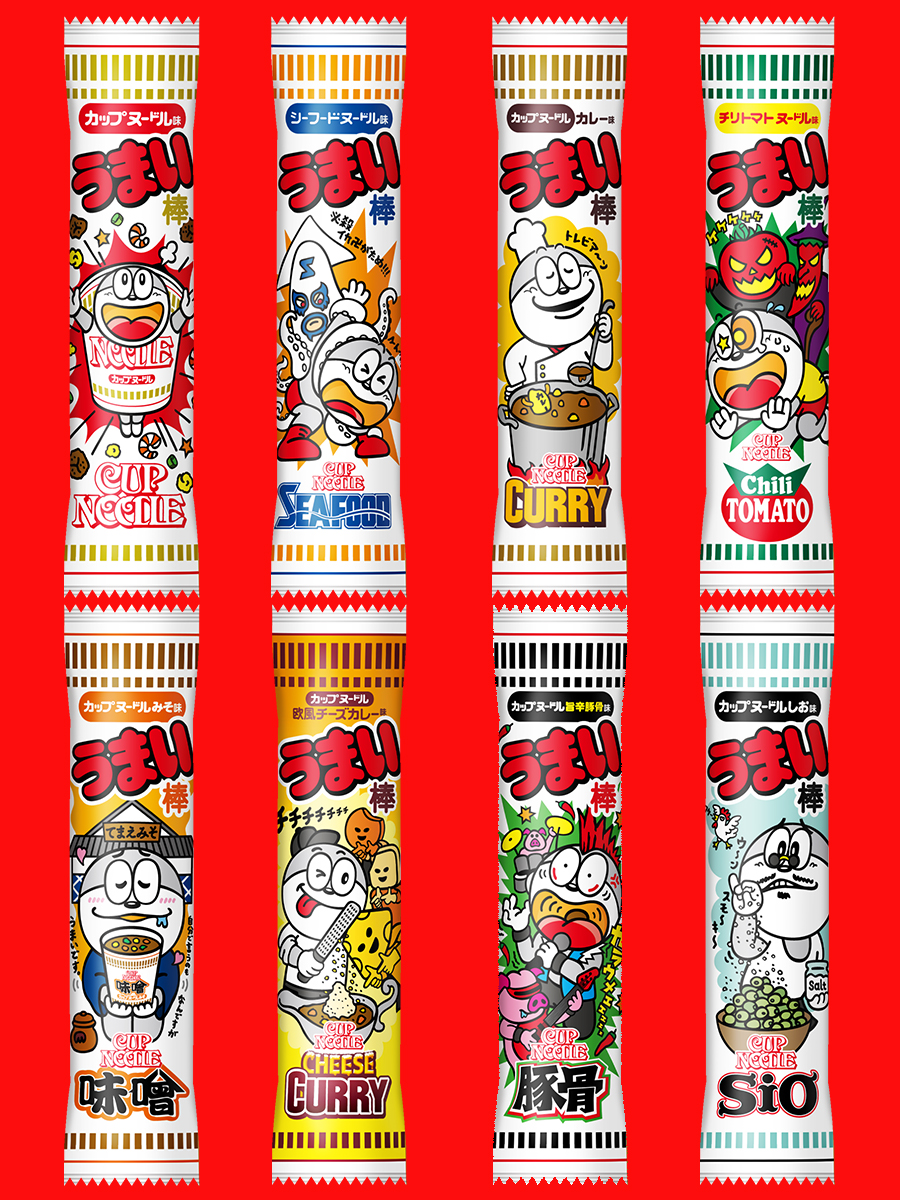 As it's almost impossible to get your hands on them online or locally in Singapore now, the only way to get them is on Nissin's website, purchased as part of the Cup Noodle 50th Anniversary Complete Set.
How to buy?
The sodas can only be purchased online from the Nissin store as part of the Cup Noodle 50th Anniversary Complete Set, which includes all four sodas, eight Cup Noodle Umaibo snacks and eight standard flavour Cup Noodles, for 2,998 yen (around S$36.60). There will only be 15,000 sets available.
Pre-sale orders will be accepted till 17 September, after which you can purchase a set of the four sodas and nine Cup Noodles (yes, it's different from the 50th Anniversary Set) from online retail sites like Amazon or Rakuten.
Are you brave enough to try these new concoctions?