Earlier this year, Sanxingdui Museum, an archaeological site and a major Bronze Age culture in modern Sichuan, released ice cream in shaped like one of their most famous artefacts, the ceremonial masks retrieved from the site's sacrificial pits. The ice cream comes in two flavours, bronze (green matcha) and unearthed (brown chocolate). There's also a fun slogan for them: "eat Sanxingdui doll heads and be happy to chew old folks."
This led to nationwide 'ice cream war' and tourist sites jostled each other with their own designs. Images of popsicles with their real-life inspirations in the background proliferate on Chinese social media, becoming receipts as proof of visiting all the 'it' places.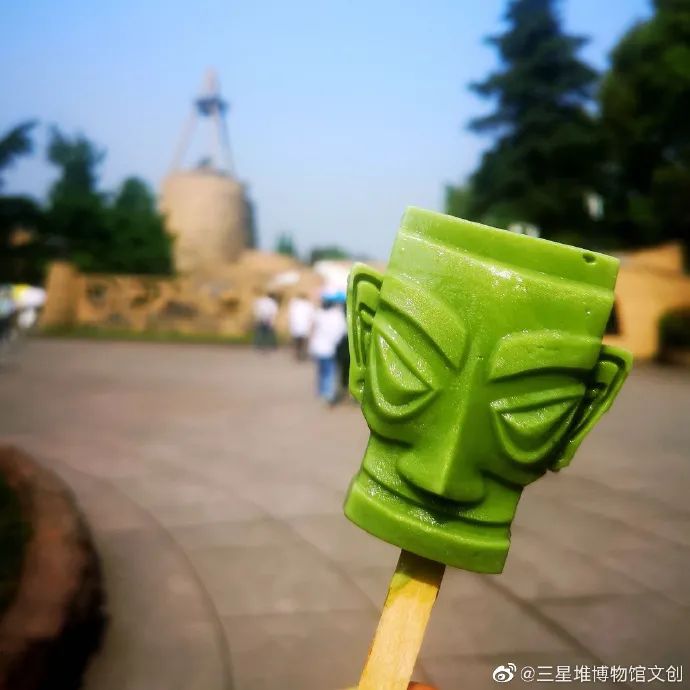 In Beijing's Temple of Heaven, you can get figurines of Q-Meng emperor, empress, and imperial guard on a stick. There's also a replica of the iconic Hall of Prayer for Good Harvests, where emperors performed ceremonies in hopes of a bountiful year.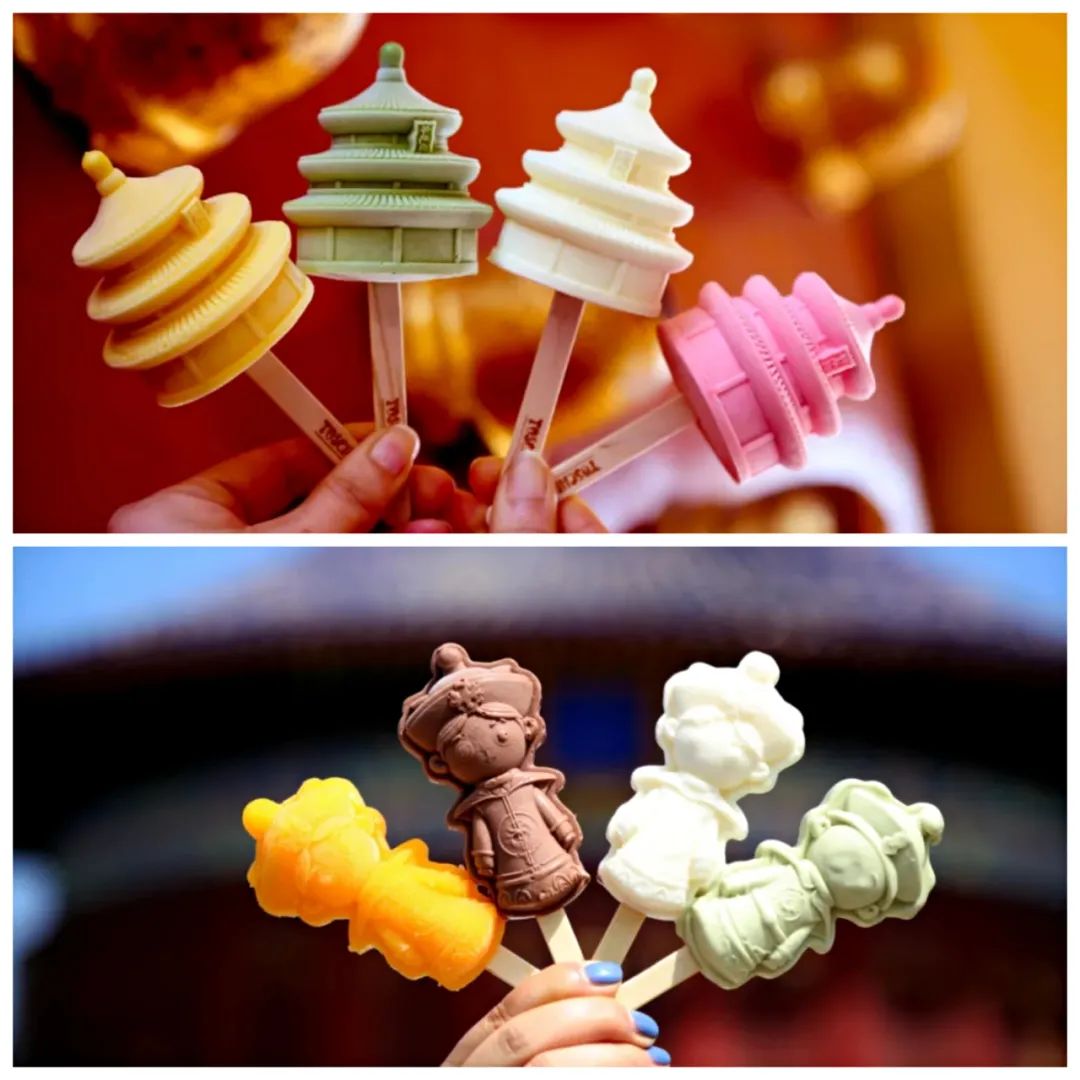 The Mogao Caves in Gansu, near the Dunhuang Oasis, is a showcase that comprises the world's most abundant collection of Buddhist art, depicting cultural exchanges along the Silk Road. The ice cream here comes in three shapes and flavours reflecting the site's popular attractions: the nine-story building (the pink landmark is represented by a strawberry flavour), Crescent Spring (milk flavour representing the crescent-shaped spring in the desert), and the earthen North District Grottoes, represented by chocolate.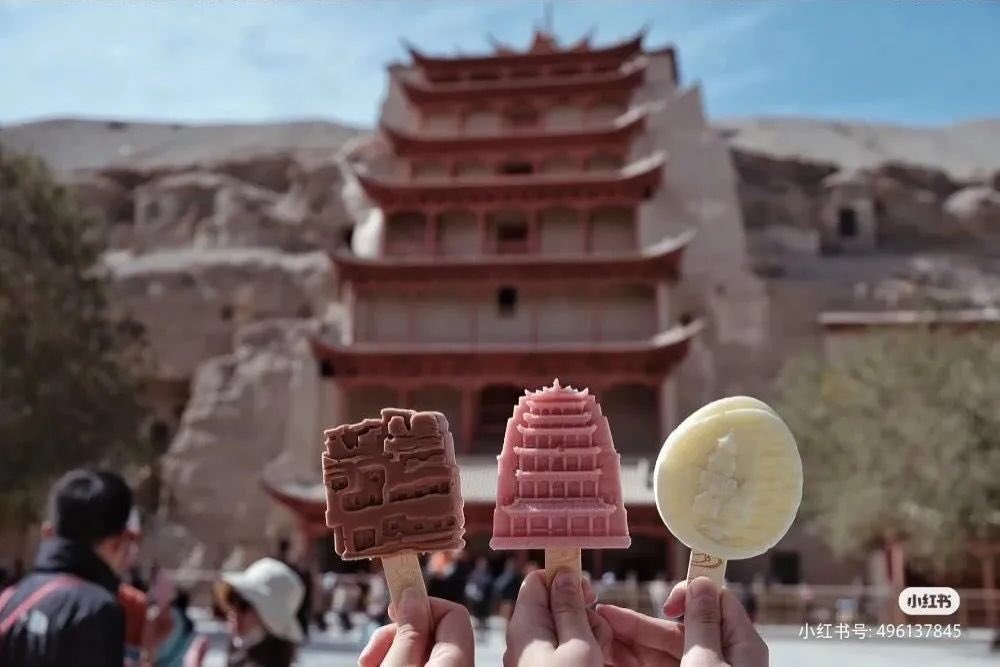 Everybody knows the ancient city of Xi'an and its warriors, but the city wall itself is also a unique cultural symbol. To showcase its uniqueness, last year Xi'an City Wall launched 12 unique flavours and styles of "City Wall Taste" ice cream, including Xi'an City Wall, Snow Guifei, and South Gate.
Slender West Lake is a scenic spot in Yangzhou, east China's Jiangsu province. The area is a beautiful lake with garden scenery combining natural and human landscapes characterised by rolling stone archways, winding water, and pagoda. The tourist site launched a bridge-shaped ice cream inspired by the Wuting Bridge, a popular site at the lake commonly referred to as the lotus bridge.
Qingming Riverside Landscape is a historical theme park that's a modern incarnation "Riverside Scene", a world-famous scroll painting by Zhang Zeduan of the Northern Song Dynasty (960–1127). Located in downtown of Kaifeng City, Henan Province, the large park recreates ancient Song-style buildings. The park now also has its own dedicated ice cream design.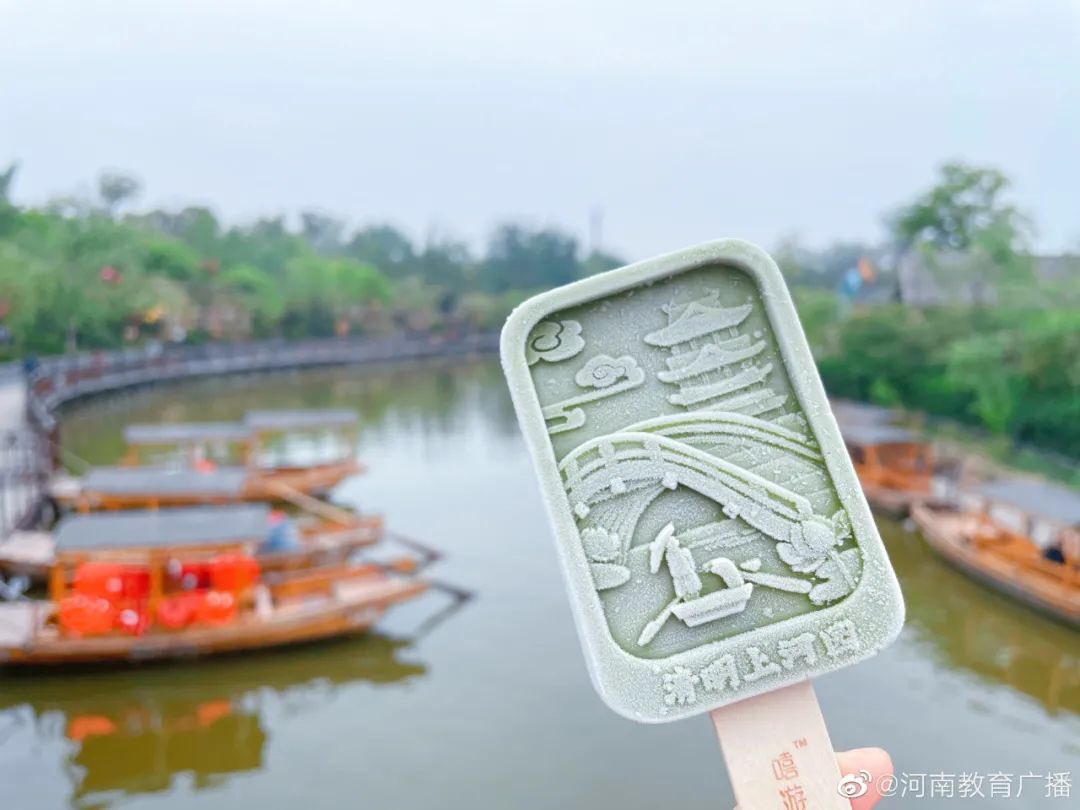 The Classical Gardens of Suzhou is another historic site that's cashed in on the ice creams. Spanning a period of almost 1,000 years (11th-19th century), the gardens – mostly built by scholars – defined the key features of classical Chinese garden design which are constructed to mimic the natural scenery of rocks, hills and rivers with strategically located pavilions and pagodas. The park has rolled out a number of different ice cream designs and flavours to represent aspects of the park, from the pink Tiger Hill Pagoda to the fan-shaped ice cream inspired by the Jianshan Tower.
Wuhan's iconic Yellow Crane Tower in Hubei Province became an online sensation since it appeared in April. The tower, which has been destroyed 12 times, both by warfare and by fire, was repaired on 10 separate occasions. The last tower at the original site was built in 1868 and destroyed in 1884. The final reconstruction of the tower was 1 km from the original site, completed in 1985 and still stands today.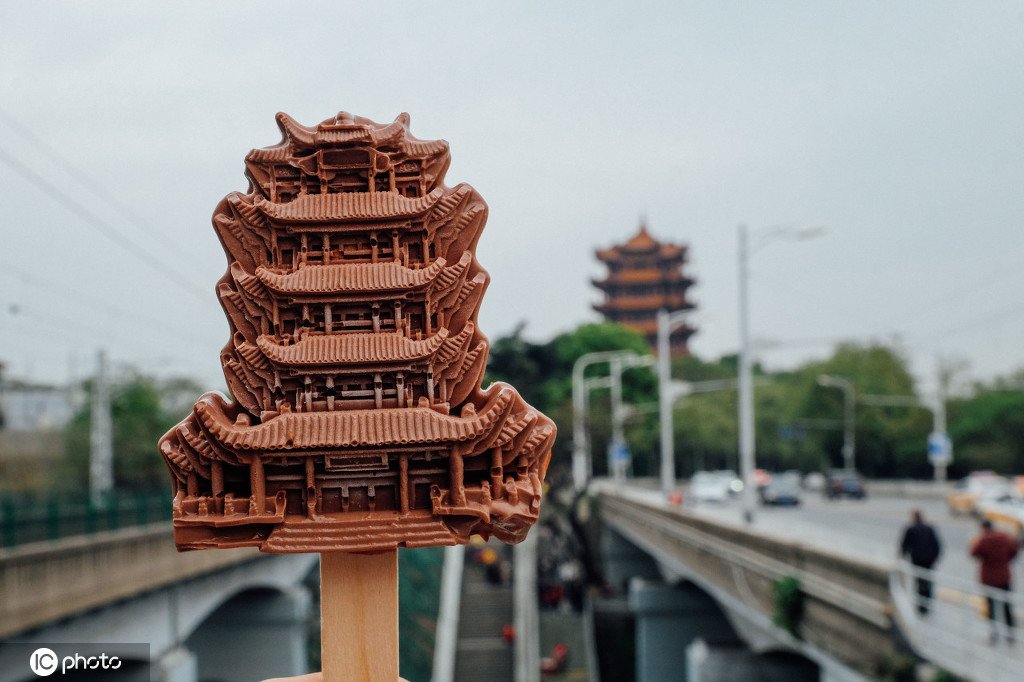 Leshan is famous for Mt. Emei, an area of exceptional cultural significance as the place where Buddhism first established on Chinese territory. Its landmarks include the Giant Buddha (Dafo) Temple and monuments like the 9th century Lingbao Pagoda and the Dafo (Giant Buddha) Temple. You can find popsicle replicas of the Lingbao Pagoda with its tiered eaves.
Ziwei Palace in Luoyang is a replica of a huge ancient city (with a size rivalling that of Beijing's Forbidden City), located on the original excavation site of Yingtianmen, which was built in the Sui Dynasty (581-618). You can also find a 'replica' of Yingtianmen in the form of a popsicle.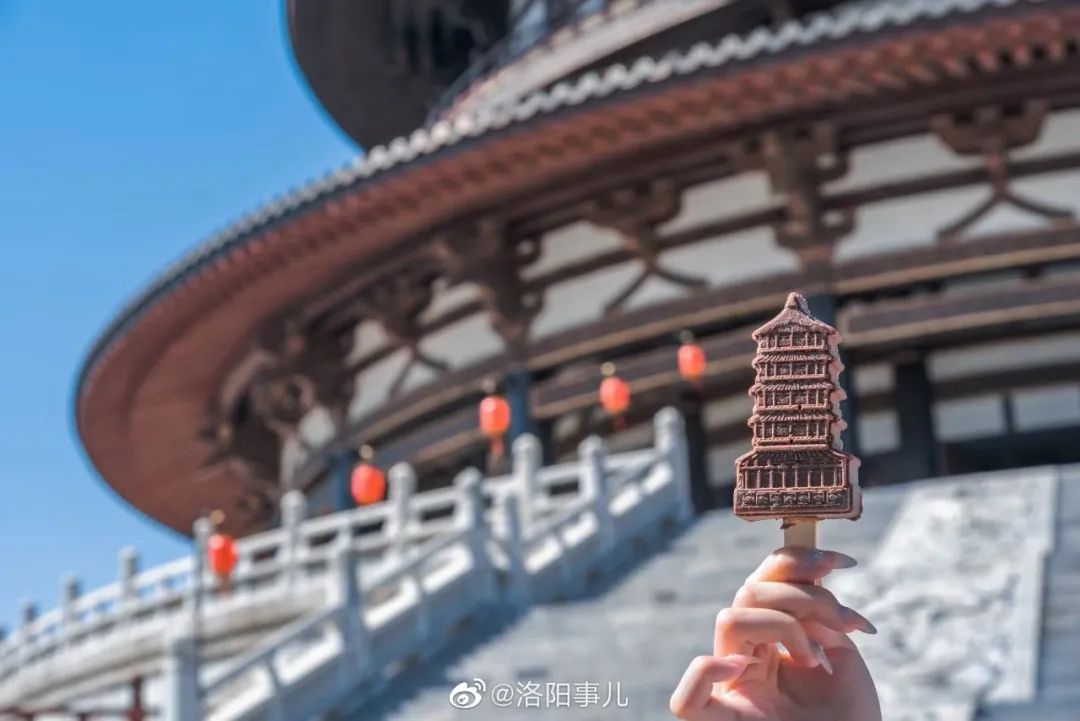 Not all historic buildings are built in the Chinese architecture. St. Michael's Cathedral is the product of a strong German presence in Shandong Province in the 19th and early 20th centuries, when European powers forcibly opened China to foreign trade. All foreign missionaries were either imprisoned or expelled from China from the 1950s, and during the Cultural Revolution (1966–1976) the cathedral was defaced and abandoned. It was repaired and reopened for business in 1981. Today, you can find a pink replica of the church in popsicle format.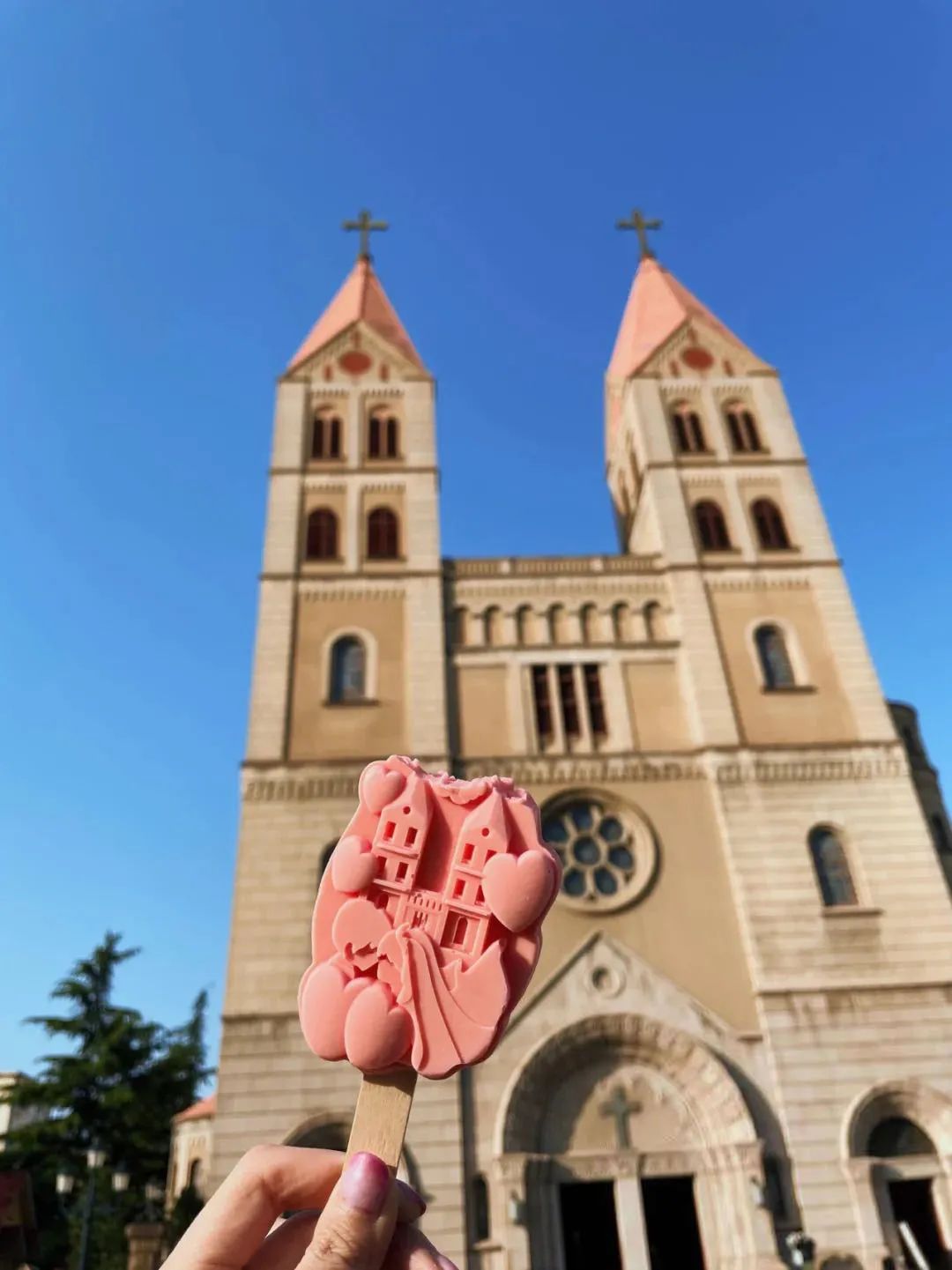 After you eat them…
While all these popsicles are great for snacking while exploring, the sticks themselves also make for great souvenirs: they're marketed as bookmarks!
Images of popsicles with their real-life inspirations in the background are in no short supply on Chinese social media, becoming a new way to prove that one is keeping up with the times and visiting all the it places. From historic artefacts in museums to flowers in a park, there's no shortage of things that can be represented by a cold, sweet treat. Prices of these desserts range between 10 and 30 yuan.