On Monday, the Daily Mail published a report that alleged that Saint Von Colucci, a 22-year old Canadian K-pop artist, had died in a South Korean hospital after undergoing 12 plastic surgeries, costing $220,000, in order to portray the K-pop star Jimin from the group BTS in an upcoming drama series.
Just under 48 hours after iHeartRadio.ca exposed the false claims made in the Daily Mail article, it was removed from the Daily Mail's website on Wednesday afternoon without any formal announcement. According to a source, its editors determined that New York-based reporter Ruth Bashinsky was duped and the whole story is a hoax.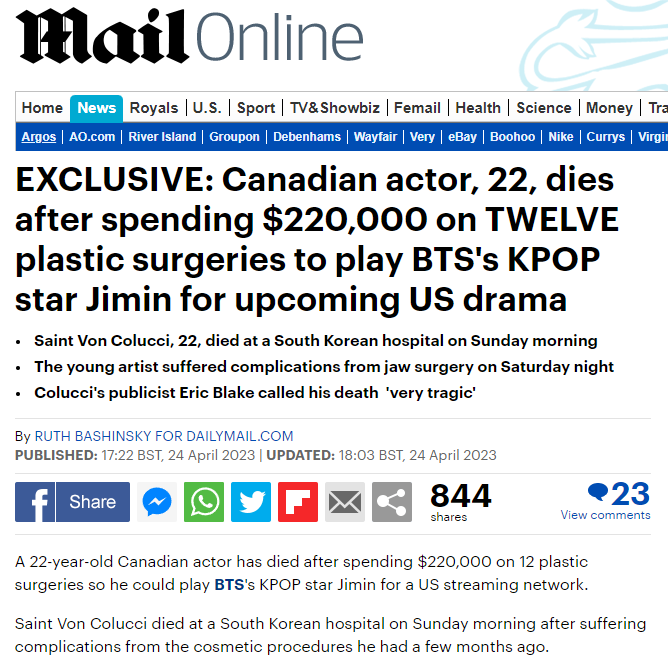 Does Colucci exist?
Does a Canadian singer called "Saint Von Colucci" really exist? An April 22, 2022 press release claimed Colucci is "the second son of Geovani Lamas, the CEO of IBG Capital, Europe's top hedge fund company" but there is no professional profile for Lamas. Somewhere along the way, it was also implied that Colucci was living in Seoul, and had released a single (although there's no sign of it anywhere).
The press release also claims Colucci died in "Seoul's National Hospital" – but the place doesn't exist. 
Some of the images floating around of Colucci seemed to be AI-generated. An Instagram account (@papaxxzy) with about 100,000 followers was set to private before becoming available with a number of blurry photos.
The story made rounds
However, despite the fact that it was reported without due diligence and with glaring inconsistencies, the story was quickly picked up by news agencies around the world, including some of South Korea's biggest media outlets.
"Chosun Ilbo, JoongAng Ilbo, Donga Ilbo: All of South Korea's biggest media outlets have now reported on the alleged news of a person we don't know who apparently died. Zero proof or fact-checking. Also Korea Economic Daily, News1, Newsis, YTN, Kookmin Ilbo…," tweeted Raphael Rashid, a freelance journalist in Seoul. 
Despite the absence of any evidence provided by Canadian or Korean authorities to support the existence of the person named Saint Von Colucci, the story gained significant traction on various media outlets.
To be fair, the story is so ridiculous that it's no surprise it generated lots of clicks. What's not to be intrigued about a foreign man trying to look like their Korean idol – a popular idol like Jimin, no less – and then dying while undergoing a ton of plastic surgery?
A social experiment?
Who knows who's behind the story and the images? It's not clear who – or what – is behind the hoax, and for what reason. Was it a social experiment or prank? Or was the entire thing generated by AI to test its limits?
Think about how far AI has come – it could easily create a persona like Colucci, and come up with IG photos, the article, and the press release.
This has a basis
While the idea of a Caucasian man undergoing surgery to look Korean sounds like a hoax, there have actually been cases of this happening in real life.
The most well-known one is probably Oli London, a British Caucasian influencer who claims to have had 32 plastic surgeries to look more like Jimin of BTS. He first had surgery to alter his appearance to look Korean in 2018, claiming himself to be 'transracial'.
Back in 2014, a 25- year old blond Brazilian man underwent about 10 surgeries to look Korean, claiming that he fell in love with Korea while he was on an exchange programme there.