Interview by Amanda Lee & Article by Selina Tan
Being girls, we're always overwhelmed by what we can actually do with our crown of glory. But just mention the words 'Korean styled' and find us in for a greater deluge of passions!
Blame it on the ongoing Korean wave that's sweeping across the whole of Asia in full force-from K-inspired blowing and cutting to more complicated procedures like 'Magic Straight Perm' that takes the naturally demure look to a whole new level. We're most willing to fork out a good amount of time (and money) if only our newly possessed hairstyle bears a tinge of resemblance to our favorite Korean celebrity. *squeals*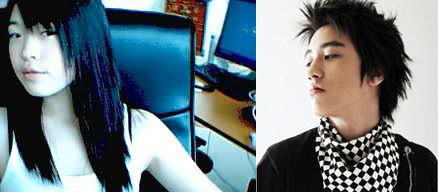 Who are these influential culprits? According to Michelle Im, General Manager of Jiwon Hair Salon, they are expectedly, members of the hugely popular K-pop music groups, such as Big Bang, 2PM and Girls Generation (SNSD).
"Many customers come to our salon with the celebrities' pictures, asking if they are able to pull off the hairstyles", enthuses Manager Im.
Indeed, roam the streets of Singapore and you'll find that females who were previously averse to moppet dos are no longer doubtful of the charm that shorter, cropped hair exudes. Besides modelling after their sexy girl idols, many attest to the convenience of keeping that hair shape and length.
"It leaves me with different choices," explains Shirley Chua, 18. "I can plump it up with hair serum when I want to be really sassy, and when I'm in a girly mood, I straighten it, which makes me look innocent."
Ah, yes. Especially when adorned with pretty ribbons, which are back in fashion with a vengeance, are these hairstyles finally complete. They are now available in a myriad of colours, the most popular being pink, of course. Well, nobody asked Kim Tae Hee in 'My Princess' to look so good with that combination, even girls are swooning.
Ok, it's not just the girls, to be honest. Guys too, are becoming more aware of the major role that hair plays in jazzing up their overall appearance.
"Boys are much more concerned about their looks these days as compared to the past," asserts Agassi Song, Senior Stylist of Jiwon Hair Salon. "They like to spike their hair up in order to look more fashionable".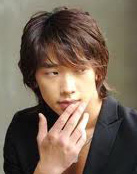 Then, there's the more stylish, adventurous lot who allow their fringe to grow, reaching past eyebrows and looking like Rain. Or even past their cheekbones when swept to the side, as influenced by the rockers of Super Junior.
"It attracts the girls!" laughs Benny Tan, 20, who is now sporting shoulder length hair and a long fringe. "They say I now look all aloof and musical."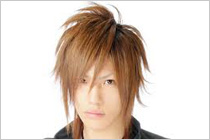 Ooh, I agree, though it must be a mammoth task maintaining it in this sweltering heat. So thank goodness for hair wax, because with adequate practice, our male friends can stay on top of trends by giving their short hair different layers.

And shorter it may be, that doesn't stop it from being impressively sloped, or whatever shape or texture the experienced stylists from Jiwon Hair Salon recommends to the practical male individual.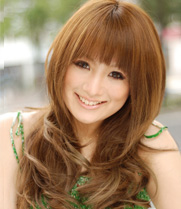 Despite suffering from the humid weather in Singapore, girls (like me) are becoming slaves to the Korean styled Digital Perm, which is centrally suitable for shoulder-length hair or longer. Also known as Spiral Perm, this kind of perm leaves them with the irresistible 'cute' feel, concludes Senior Stylist, Agassi Song.

Tips for protecting your hair after the perm?
Use a good moisturizing conditioner after wash to avoid having dried, split ends.
Strike up a deal with your hairdresser for more frequent hair treatments. This is expensive, however, it is necessary.
Invest in a tube of hair essence. Not only does it keep your hair moisturized all day long, it also accentuates the 'bling' by adding to your curls that shiny glimmer.