Local students pitch ideas to make a difference
Aiming to tackle social issues here and abroad, four student projects pitched at this year's inaugural GoMAD Day were chosen to receive GoINSPIRE seed money from Singapore Polytechnic to launch their efforts.
Making a Difference
The Out-Word Expression, Project WeShare, Green Vending Bank and Green Dessert @ SP Fall 2011, were chosen out of ten pitches to receive a portion of the approximately $5,000 in support funding. Please see below for full project descriptions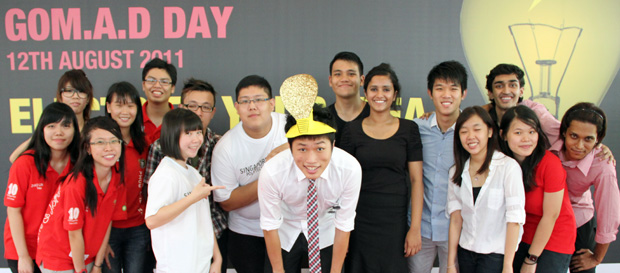 One of the projects chosen, The Out-Word Expression, also received seed money from GoINSPIRE last year to create Poetry Slam Revolt, held this past January. "The seed funding allowed us to share the love of words on a much larger scale… This helped educate students about the event and garnered excitement…", said Rahimah Rasith, one of the main leaders of The Out-Word Expression.
A first of its kind at the school, Poetry Slam Revolt provided students a platform to express their thoughts and emotions on social issues. Partly due the success of last year's project, The Out-Word Expression won the pitch again in 2011.
"We are all so afraid to make mistakes [for] fear of the repercussions (GPA, grades), but art is about exploration and making mistakes…It is an emotional outlet for many, as it is for me", said Rahimah.
GoMAD Day
On the inaugural GoMAD Day* (Go Make a Difference Day), ten groups of SP students pitched their projects to a panel of judges, who then determined which ideas held the most potential. "We understood that there were supposed to be three winning teams, but the judges added a fourth", said Shah Salimat, Media Publicity Director for the Organizing Committee.
As the theme for this year's event was, "Electrify Your Idea", the day aptly kicked off with the lighting of a lamp to bring to life the meaning of the event. Leading up to GoMAD Day, students also wrote their ideas about how to combat social issues on a total of 937 paper light bulbs, which were then displayed on two Idea Walls located at food courts.
Light bulb entries ranged from the humorous, like installing a travellator, to the more serious and thought provoking such as proposed solutions on how to improve literacy rates and the environment. "Very often, we find ourselves keeping ideas or suggestions in our heads and not voicing them out," said Principal Tan Hang Cheong, during the opening speech. The bulbs were meant as a tool to help students express their thoughts on solutions to social issues.
*GoMAD Day was organized by about 100 year 3 students from SP's Diploma in Media and Communication course as part of their Final Year Project. This was the first year for the event, as last year's chosen winners were chosen by an online vote.
FULL DESCRIPION OF CHOSEN PROJECTS
The Out-Word Expression
Having Successfully launched Poetry Slam Revolt during the GoINSPIRE pilot test, the team led by Abdul Azim Bin Awalludin wants to take it one step further by establishing a vibrant literary arts scene for SP and all Polytechnics as well as empower youths with a creative voice to express their thoughts, ideas and emotions. With the tremendous power of the spoken word, the team aims to reaffirm its beauty in the Internet age where we profess our emotions with acronyms and abbreviations.
Project WeShare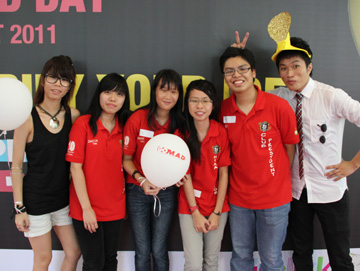 Spearheaded by Lim Shi Yan and led by 18 other active students from the Singapore Polytechnic BP Mentoring Club, Project WeShare is a community initiative, which aims to aid children in increasing their knowledge about Literature. The team has ambitious goals to set up an English Library at a student care center and to conduct a book fair. Wanting to inculcate the habit of reading among children, they also hope that they mentors would develop volunteerism and give back to the community more.
Green Vending Bank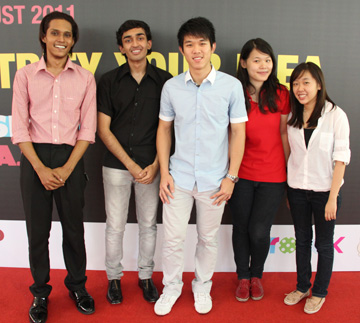 Proposed by five quirky individuals from the Diploma in Mechanical Engineering, Fong Ee Jie, Rajesh Dew, Tee Poh San, Chern Hui Rong and C.Yogendran propose the Green Vending Bank, which is a vending maching that gives you cash in exchange for used drink cans and bottles.
Green Desert @ SP Fall 2011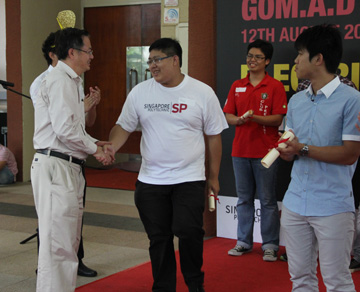 Green warriors Elijah, Ahdi, Amanda and Joel are going global by having the ambitious and admirable idea of returning patches of land in Beijing and Inner Mongolia, which were unfortunate victims of densification, back to their former luscious glory. This trip is part of Asian Journeys, a 5-year program since 2007 started by the local governments of Duolun and Dalateqi to plant trees to conserve the natural environments there.