LASALLE student wins awards for Sapporo ad campaign
Winning Best of Show and Best of Advertising at The Crowbar Awards 2011*, Sid Lim Xian Hao, said he wanted to create one last ambitious, out-of-the box advertising campaign before he graduated, and he did just that. "Sapporo – The Universal Language of Things" was a 6-month long thesis project for this recent LASALLE graduate, which tested the boundaries of conventionalism.

The campaign has 3 components: television advertisements, social media marketing and – a unique interactive vending machine. "I wanted Sapporo to become a bigger brand like Nike where they're not selling to you, but showing you a lifestyle," said Sid. He thought current ads for the Japanese beer were standard and not hitting the youth market, so he added a twist to spice things up.
BRIGHT IDEAS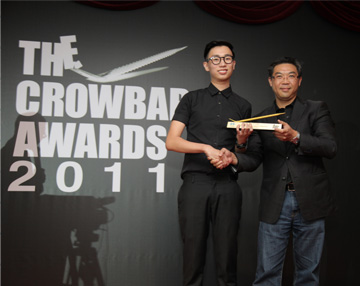 Unconventionally, Sid's vending machines do not take cash nor do they have any buttons. Placed near bus stops in famous global cities, an adjacent, two-way, live stream, touch-screen monitor, would allow anyone to click on an available location and see life-size people from that city in real-time. Without audio, the goal is to persuade the person on the other side to give him/her a Sapporo beer, which would then drop from the nearest vending machine.
The process is basically:
STEP 1: Walk up to life-size monitor and select a desired city from a drop down menu. Anyone standing in front of the screen in the selected location will then appear.
STEP 2: Get them to buy you a beer! Use non-verbal communication such as hand gestures, written signs, and other means to show you want a beer and which location you are located.
STEP 3: If the person on the other side of the screen is convinced, they'll notify the local Sapporo distributor, who will then contact the distributor in the requested city to remotely drop a beer from the vending machine.
STEP 4: Should the two people want to then become friends or to speak with each other, they would have the option right on the screen to add one another on Facebook or Twitter.
MAKING THE VIDEO
The video advertisements compliment the vending machine idea of meeting new people and fostering communication by portraying Sapporo as a lifestyle beer that brings friends together. As an example, he created the advertisement for Singapore only, but if the campaign went forth, a video would be created for all major cities.
With some film experience and a number of failed attempts at making prior videos, he pulled it all off by directing, shooting, and editing the film himself. He says he received a lot of support from his family and friends. When asked how he planned to spend his $1,000 prize money from winning the Crowbar Award, he coyly said, "I spent half already!" He went on to explain how he wanted to give back to all of the people who helped him along the way so the money went quickly. One friend even helped Sid to involve Holly Grabarek, from MTV Asia, to be in his video.
INTO THE FUTURE
Currently, Sid is starting his career at a local advertising agency and says he's open to working on any campaign for any client, but his dream job would be to work at Wieden+Kennedy based in Portland Oregon and just be RICH!
Best of luck to you Sid!
For more on Sid's campaign, CLICK HERE.
To see all works for the 4A's Crowbar Awards, CLICK HERE.
*The Crowbar Awards is an annual platform for emerging creative talents to showcase their best works and learn from their peers. Started in 2001, The Crowbar Awards (Coined 'Crowbar' because it's literally a chance for the winners to prise open a job opening for themselves and break into the industry) has actually helped several previous winners to go on and make a name for themselves. This year, The Crowbar Awards attracted 1,249 entries from 20 schools, including overseas entries from Malaysia, New Zealand and China.