Written by Cheryl Tan

Girls have very busy schedules during the weekdays – school, sports activities, etc – so when the weekends come, the magical 'bling' of social nights emerge too! What better way is there to express our huge range of leisurely sensations than with the limitless buffet of styles nail polishes have to offer us!
What are you waiting for? Check out these feel good nail ideas!

BIKINI BABE ON THE BEACH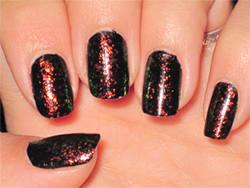 Stalkarazzi by The Painted Nail
Named Stalkarazzi by Haylie Duff, this sparkly number will hit the sunlight and reflect an array of metallic rainbow colours that will leave your girlfriends in awe!
PROM NIGHT / POSH DINNER EVENT

Nicole by OPI Gold Crackle
This glamorous topcoat will leave you feeling like a princess in a Cinderella story! A cherry red nail polish paired with this Gold Crackle topcoat boosts the glam factor!

HIGH TEA / COCKTAIL PARTY

Elegant Lace-Covered Nails
Inspired by celebrities such as Blake Lively from Gossip Girl, this classy design is an excellent way to spice up a look for a special occasion.
DIY Tutorial:
Materials:
Top coat
Scissors
Toothpick
Your favourite black LACE design
Steps:
Measure and trim the lace to fit each fingernail.
Polish a single layer of topcoat.
Apply the trimmed lace on top of the wet polish.
Firmly press the outer corners of the lace with a toothpick.
Let the polish and lace dry for a few minutes
Finish with two more applications of topcoat.
OMBRE NAILS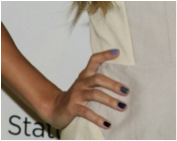 Little Miss Mysterious
This nail trend, spotted on celebs like Lauren Conrad, has been making a splash in the fashion world this season! On each nail, the colour goes from a light shade to a darker shade or vice versa.
NERD CHICK LOOK

Newsprint Nails
Bored of plain coloured nails and paying for manicures? Try this simple DIY newsprint look that will give you an air of nerdy yet edgy style!
DIY tutorial:
Materials:
Rubbing alcohol (or vodka)
Base and top coat
Pastel nail polish
Newspaper strips
Steps:
Paint on the base coat then 2 coats of nail polish as per normal.
Dip fingertip in rubbing alcohol/vodka for 30 seconds and firmly cover the damp nail in a newspaper strip. Peel it off slowly and allow it to dry.
Finish with a topcoat.