My first experience covering an awards show
Written & Photography by Chione Zhang
Upon registration at Sands EXPO and Convention Centre, I received my press-interview pass and a glittery navy blue file of artiste information.
Then I hurried into the Cassia junior ballroom, awaiting the commencement of the official Mnet Asia Music Awards and for my idols to come on stage. Here are some of the highlights of the event for me!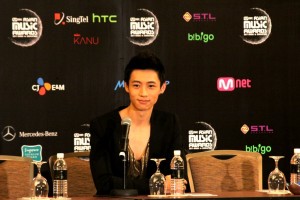 The first to make his entrance was Wei Chen, who shot to fame after being awarded third place in Superboy and acting in the Chinese version of the popular drama Hana Yori Dango/ Boys over Flowers.
Introduced as the most powerful and sexy girl group in Asia, Miss A took then took the stage, looking chic and cool in black. When asked about their future plans, they answered that they will be working more often in China.
Lang Lang, a well-known concert pianist, expressed his anticipation to perform with B2st in the MAMA Awards, and also revealed that this is his first time working with Kpop artistes. When asked whether he might be too commercial for classical music, Lang Lang tactfully replied that personally he likes pop music too, and feels that any genre of music needs new audiences.
The girl groups were up next with SNSD looking impeccable as always as they took their seats on stage. SNSD said they definitely look forward to performing for their fans from various countries, including Singapore. Following them, was 2NE1, looking stunning as they entered the press conference room with their off-the-wall styles.
To end the show, the hilarious Super Junior sent the press laughing by animatedly introducing themselves in English, Korean, Chinese and Japanese. Super Junior was thankful that fans are willing to learn the Korean language and Korean culture despite the difficulties.
The morning press conference came to a wonderful closure with smiles from Shin Dong and Sung min as my first experience as an awards show journalist and photographer quickly came to an end.